Number of U.S. meningitis cases from tainted injections tops 300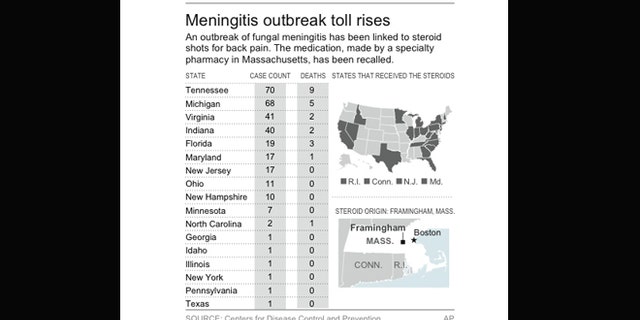 NEWYou can now listen to Fox News articles!
The number of U.S. cases of meningitis from tainted injections of a steroid medication has reached 304,
up 10 from a day earlier, the Centers for Disease Control and Prevention said on Tuesday.
Georgia reported its first case, raising the states covered in the outbreak to 17, the CDC said. Four joint infections from injections of the steroid medication also have been reported, bringing the national total of infections to 308, the CDC said.
Related: Meningitis outbreak prompts discussions on pharmacy conditions
There were no new deaths reported, leaving total fatalities in the outbreak at 23 in seven states, the CDC said.
Click here for a full list of affected clinics.
The number of cases has continued to mount despite the recall of the product by the New England Compounding Center. New cases of infections were reported in Michigan, Florida, New Jersey and Tennessee in addition to Georgia.
Dr. William Schaffner, an infectious diseases expert at the Vanderbilt University Medical Center in Nashville, said last week on "CBS This Morning" that he expects a "steady increase" in the number of fungal meningitis infections over the coming weeks.
"We're nowhere near the end of this problem," Schaffner said last week. "And we will see more patients reporting in ill, and we'll have to treat many more going forward."
Last week, the FDA reported that one patient has developed possible meningitis symptoms after receiving a lower back injection of a different steroid from the NECC called triamcinolone acetone.
The FDA is also investigating reports that two heart transplant patients have developed fungal infections after receiving the NECC's cardioplegic solution, a medication used to paralyze the cardiac muscle to prevent injury during open heart surgery. The agency said it's too early to determine whether these apparent infections are linked to the medication, or some other cause.
Related: Before meningitis outbreak, firm avoided sanctions
Additionally, the FDA is concerned about the NECC's ophthalmic drugs used in injections or in connection with eye surgery, because they're processed under similar conditions. However, no infections associated with the NECC's ophthalmic drugs have been reported so far.
Public health officials are urging patients who have received doses of these NECC medications to contact a physician if they develop symptoms of fungal infection – including fever, swelling, discharge from the eye, chest pain or drainage from the surgical site.
Reuters contributed to this report.