New 'zombie' drug may be emerging in Florida as flakka use declines

When details of an attack allegedly involving a Florida State University student who police say stabbed an innocent couple to death then tried to eat the face of one of the victims were released earlier this month, many media outlets quickly pointed to flakka, a synthetic cathinone similar to bath salts that can cause violent, aggressive behavior. But if Austin Harrouff, the 19-year-old suspect who authorities say killed John Stevens, 59, and Michelle Mischon, 53, outside their home in Jupiter, Florida, was on the synthetic drug alpha-PVP, data suggests his case isn't representative of a growing problem nationwide.
"In all synthetics, as well as cathinones, as well as bath salts, we've noticed a reduction— I think to something to the tune of 30 percent since October 2015," Melvin Patterson, a spokesman for the Drug Enforcement Administration, told FoxNews.com.
That month, the Chinese government banned production of flakka and 115 other synthetic drugs, effectively stunting exports to the United States. Although the feds have seized flakka from some European countries like the Netherlands, Poland and Slovenia, China has been the biggest exporter of flakka to the United States, said Jim Hall, an epidemiologist at Nova Southeastern University in Fort Lauderdale and a nationally recognized expert on flakka and other illicit drugs.
While Harrouff's toxicology report has yet to be released, experts say there are hints a different substance was to blame. After the killings, authorities said Harrouff had a body temperature of about 97 degrees. Flakka, or its chemical name alpha-PVP, and bath salts cause what experts call a state of "excited delirium," wherein the user's body temperature skyrockets to at least 105 degrees Fahrenheit.
"I am cautious in attributing it to flakka or another drug from the same category," Hall, also a sentinel community epidemiologist (SCE) for the University of Maryland's National Drug Early Warning System (NDEWS), told FoxNews.com.
An absence of hypothermia likely rules out those drugs but could point to something similar, he said. Police in the Palm Beach area reported a similar case Sunday of a teen seemingly with superhuman strength and high tolerance of pain smashing through a glass window. The unidentified drug appears to be some kind of bath salt, the Palm Beach Post reported.
Since the initial breaking news, various media have named steroids and unidentified chemicals possibly found in the victims' garage as additional suspects.
"Evidently, human growth hormone (HGH) steroid use is done in cycles— several weeks on, several weeks off— and it's when person is off the steroids that they can have an episode that can trigger the 'roid rage,'" Hall said.
Harrouff's case isn't the first time zombie-like behavior has been associated with flakka and bath salts. A 2012 incident in South Florida involving a man nicknamed "the Miami causeway cannibal," is often pegged to flakka. But the case actually involved a bad trip on conventional marijuana. The drug caused Rudy Eugene, who was diagnosed with schizophrenia, to hallucinate, strip down and streak, and bite Ronald Poppo, a homeless man, in the face on the MacArthur Causeway in Miami.
Marijuana can trigger an episode of schizophrenia in someone prone to the disorder, and Eugene had a history of heavy use of regular and synthetic marijuana despite testing positive only for the former, Hall said.
Wade Harrouff, Austin Harrouff's father, told the Post that mental illness was to blame in his son's case, and that the family has a history of schizophrenia.
According to the NDEWS, reports of synthetic cathinone seizures increased by about 18 percent from 2014 to 2015— before the Chinese ban went into effect. The NDEWS, which draws data from the DEA's National Forensic Laboratory Information System (NFLIS), won't have 2016 drug reports available until later this year, Erin Artigiani, deputy director for policy at the Center for Substance Abuse Research at the University of Maryland, told FoxNews.com.
After the ban went into effect, South Florida saw a "dramatic" decline in the availability of alpha-PVP and its consequences, including related ER visits, excited delirium cases and admittances to addiction treatment centers, Hall said.
At four major hospitals in Broward County, medics observed about 12 alpha-PVP cases per day in summer 2015. By December, two months into the ban, cases were down to two per day, Hall said.
"In 2016, they have virtually seen none," he said, adding that there were 63 alpha-PVP-related deaths from September 2014 – 2015, and none after that.
However, some parts of the U.S. are still seeing a rise in flakka use, albeit merely on a quantitative level. In Atlanta, for example, NDEWS SCE Dr. Brian Dew, chair of counseling and psychological services at Georgia State University, has seen a handful of flakka seizures crop up this year.
But, he said, "We're starting in such a small place that even a few arrests will indicate an increase. It's difficult to know whether it's going up or down, or becoming a growing threat."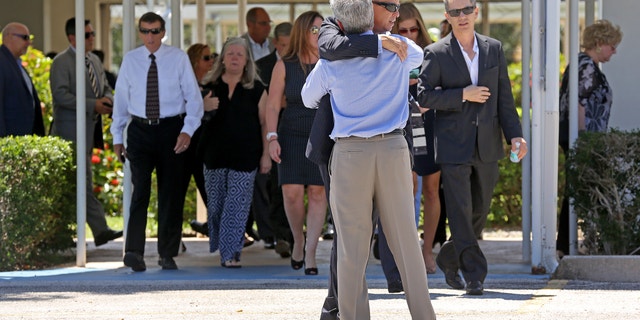 He said regardless of what numbers end up revealing, demand for synthetic cathinones, including ethylones and methylones, remains high. Amid a nationwide opioid abuse and heroin use epidemic, most communities and public health officials have their eyes on fentanyl— one of the drugs not affected in the Chinese production ban—and the synthetic linked with the late pop star Prince's death. Fentanyl is 50 to 100 times as strong as morphine, according to the Centers for Disease Control and Prevention (CDC).
Although the drug isn't known to be associated with excited delirium, heroin is often laced with it, and the two can make a deadly combination.
A CDC report released in August 2016 found that nationally, the number of fentanyl submissions and synthetic opioid deaths increased by 426 percent and 79 percent, respectively, from 2013 to 2014.
Harrouff's toxicology report, which the FBI is processing in Quantico, Virginia, may not be available for another couple of weeks, the Post reported.