New York City doctor treated for Ebola released from hospital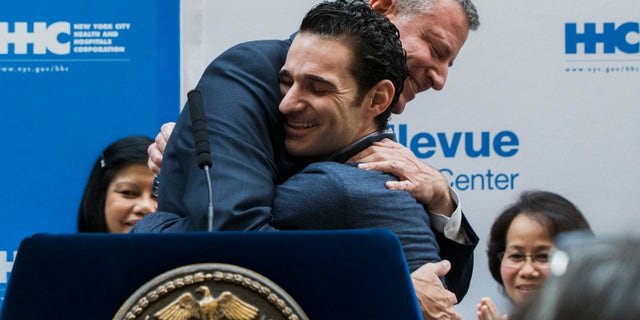 The New York City doctor who contracted Ebola while treating patients in Guinea has been released from the hospital Tuesday, hospital and city officials confirmed.
In a press conference Tuesday morning, NYC Mayor Bill de Blasio and first lady Chirlane McCray hugged Dr. Craig Spencer, thanking him for his service in the fight against Ebola.
"Dr. Spencer is Ebola-free, and New York City is Ebola-free," de Blasio said.
The mayor praised Spencer for his calm, and his "strength, courage, dignity, humor, humor amidst it all."
Spencer, 33, was admitted to Bellevue Hospital Center on Oct. 23 after exhibiting symptoms of the Ebola virus shortly after his return from West Africa, where he had been a volunteer with Doctors Without Borders/ Médecins Sans Frontières.
"My early detection, reporting and recovery from Ebola speaks to the effectiveness of the protocols in place for health staff returning from West Africa at the time of my infection. I am a living example of how those protocols work, and of how early detection is critical to both surviving Ebola and ensuring that it is not transmitted to others, Spencer said during the press conference.
"Please join me in turning our attention back to West Africa, and ensuring that medical volunteers and other aid workers do not face stigma and threats upon their return home. Volunteers need to be supported to help fight this outbreak at its source," he said.
In a statement released Tuesday, New York Gov. Andrew Cuomo thanked Spencer for his work and employees at Bellevue for protecting public health and treating Spencer.
"Today is proof that proper preparedness and erring on the side of caution can save lives. On behalf of all New Yorkers, I am greatly relieved to hear of Dr. Spencer's recovery and thank him for his important and heroic work on the frontlines of this devastating epidemic in West Africa," Cuomo said in the statement.
"After a rigorous course of treatment and testing, Dr. Craig Spencer— the patient admitted and diagnosed with Ebola Disease Virus at HHC Bellevue Hospital Center— has been declared free of the virus," the hospital said in written statement Monday. "Dr. Spencer poses no public health risk and will be discharged from the hospital tomorrow, Tuesday, November 11th."
Spencer is the city's first confirmed case of the virus. Prior to his diagnosis, he used the subway transit system to travel to a Brooklyn bowling alley from his Harlem apartment, and rode in a taxi before being admitted to the hospital. Spencer's fiancée was monitored for the virus and eventually discharged from the hospital.
As part of his treatment, the Columbia University Medical Center doctor received donated plasma from Nancy Writebol, a fellow health care worker with the Christian organization SIM who was treated in August for the disease. She was transported to Emory Hospital in Georgia, where she recovered.