Nevada votes to eliminate 'tampon tax' on feminine hygiene products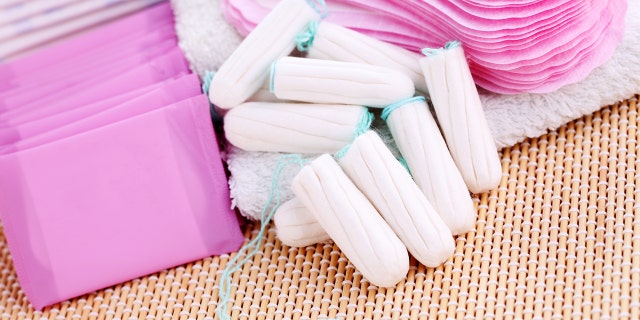 Women in Nevada will now be able to buy feminine hygiene products without paying a so-called "tampon tax."
Residents in the state on Tuesday voted to remove the nearly 7 percent state sales tax on these items, Vox reported. More than 50 percent of voters chose to eliminate the tax, according to news station KTNV. The move makes Nevada the tenth state to do away with what is also known as the "pink tax."
AIRMAN MOM OF 2 PUMPS BREAST MILK WHILE COMPLETING IRONMAN 70.3
The ballot measure, known as Question 2, was first proposed by state Sen. Yvanna Cancela and Sen. Joyce Woodhouse, both Democrats.
Supporters of the measure argue that applying a sales tax to feminine hygiene products is a discriminatory practice, as these items are a necessity for women during their menstrual cycle.
"These products are not a luxury but a basic necessity of life that women use starting around age 12 until their early 50s," the measure states, arguing feminine hygiene products are considered to be "medical devices," and, like other medical devices which are currently exempt from the state's sales tax — such as bandages and splints — should also be exempt.
But those against the measure say removing the sales tax from these items "will result in less revenue for the State and local governments, including school districts."
"This loss of revenue may adversely affect the provision of state and local governmental services. California considered exempting these products in 2016, but the Governor vetoed the proposal because of concerns about lost revenue," opponents of Question 2 argue in the measure.
With the passage of the proposal, Marketplace estimated the state will have to make up for roughly $5 million to $7 million in revenue — an amount Sen. Cancela told the publication is "pretty small" compared to the rest of the state's biennial budget, which was $8.1 billion in 2017.
CALIFORNIA MOM OF 4 DIES 30 MINUTES AFTER EMERGENCY BIRTH, FAMILY SAYS
"Feminine hygiene products are primarily bought for women and the sales tax on what are medically necessary devices disproportionately affects women. And I think removing a tax like that from our tax code is important in moving towards equality," the senator said, adding the proposal removes "a gender tax from our tax code."
It is important to note, however, that there is not a "special" sales tax on feminine hygiene products; rather, they are "subject to Nevada's sales tax, similar to many other items," the Tax Foundation states.
The Associated Press contributed to this report.