Munchkins baby pacifiers, clips set recalled for possible choking hazard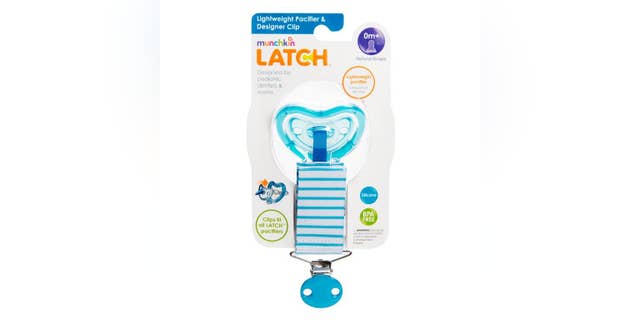 NEWYou can now listen to Fox News articles!
The baby products company Munchkins has recalled a set of pacifiers and clips because they pose a choking risk to young children, according to an announcement from the U.S. Consumer Product Safety Commission (CPSC).
The Van Nuys, Calif., company is issuing replacements and refunds for its LatchTM lightweight pacifiers and clips after it found the clip cover can detach from the pacifier's clip. It has received 10 reports of the disconnection, but no injuries have been reported. The recall involves about 180,000 clips sold in Babies R Us, Target, Walmart and other retailers, online and in-store, between March 2014 and March 2016.
According to the CPSC, the recalled pacifiers were sold in five styles: designer, rattle and heartbeat clips with 0m+ natural shape pacifiers, and designer and rattle clips with 6m+ orthodontic pacifiers. The recalled designer pacifiers and clips (0m+ and 6m+) apply to three color patterns: blue and white strips, orange and with white polka dots and pink with white polka dots. The rattle pacifiers and clips (0m+ and 6m+) are green with beads in the pacifier cover to make a rattle sound and have a polka dot strap. The heartbeat pacifiers and clips have a red, heart-shaped pacifier cover and red and white polka dots on the strap.
Customers with questions can call Munchkin at 877-242-3134 between 7 a.m. and 5 p.m. P.T. Monday through Friday or online at www.munchkin.com.