Most U.S. Kids Get Vaccines, But Parents Still Worry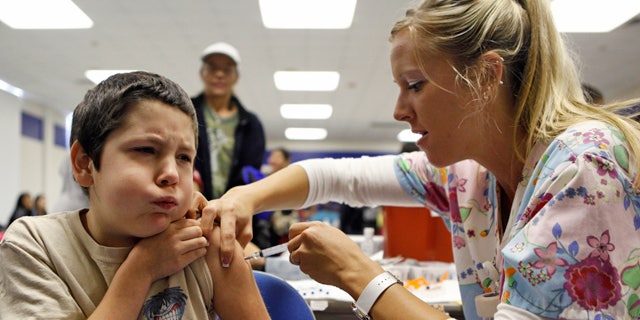 Most children in the United States get recommended vaccines on schedule, but some parents still have misgivings about the shots, questioning whether they are safe or even necessary, U.S. government researchers said on Thursday.
The survey of 376 U.S. households found most have at least one concern about vaccinating their children, and as many as 5 percent said they plan to skip at least some of their child's recommended shots.
"The good news is that almost all parents are getting their children vaccinated. But that doesn't necessarily mean all parents have a high level of confidence in those vaccines," Allison Kennedy, an epidemiologist in Center for Disease Control and Prevention's Immunization Services Division, said in a statement.
The study reveals lingering fears among U.S. parents that immunizations may be linked to increasing rates of autism, a view that has been repeatedly discredited by scientists.
Fears about possible health threats such as autism from childhood vaccinations have led a small proportion of parents to refuse the shots for their children. That has raised the prospect that vaccine-preventable illnesses such as measles and whooping cough may reappear in clusters.
"There is no credible evidence that vaccines are associated with learning disabilities, including autism," Kennedy said.
Vaccination rates for U.S. children are still well ahead of those of many countries, but Kennedy said more could be done to address parents' concerns.
She said parental education needs to include explanations about why vaccines need to occur before age 2, when children are most vulnerable to contracting severe disease.
In the annual survey done by Porter-Novelli, Kennedy and colleagues at the U.S. Department of Health and Human Services National Vaccine Program Office looked at parents' behaviors, attitudes, concerns and the sources of information they used to learn about vaccines.
Although 23 percent said they had no concern about vaccines, most parents had at least one question or concern, ranging from whether the shots hurt, whether their children were getting too many shots at one visit, whether their children got too many shots before age 2, and whether the vaccines were made from safe ingredients.
And parents questioned whether vaccines had been well tested and worried that they might cause disease or they might be given to protect against diseases that would never pose a threat to their children.
About 2 percent of parents said their children would not get any of the recommended vaccines and 5 percent said their children would only get some of the recommended vaccines.
Parents in this group were more likely to believe their children were getting too many vaccines before age 2 and worried that vaccines caused learning disabilities, including autism.
Part of these fears may stem from the fact that parents increasingly are getting information about vaccines from the Internet. A quarter of parents said they get information from the Web, more than twice the number reported in 2009 from a different survey.
And while parents consider their child's doctor one of the most important sources of information about vaccines, one in three parents said they are not fully satisfied with the information they get from pediatricians on the safety and necessity of vaccines.
Kennedy said the CDC needs to study ways to make sure parents get appropriate and accurate information about vaccines.
The survey echoes a 2009 report by the Institute of Medicine that found the United States needs to spend more money to address safety concerns about vaccines.
The institute, one of the National Academies of Sciences that advises U.S. policymakers, called for a national communications strategy to bolster public confidence in vaccines.