Mom receives devastating cancer diagnosis after dad's ALS death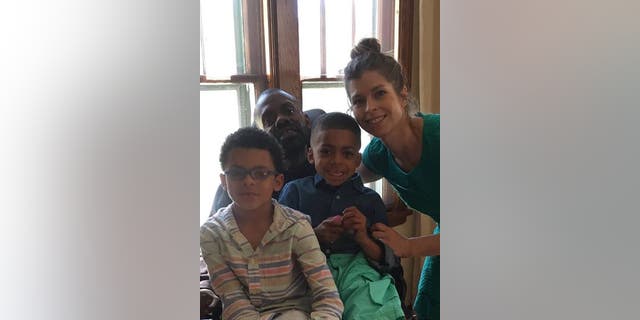 Donations are pouring in for a Minnesota family whose mother received a devastating cancer diagnosis while she was on the phone arranging the funeral of her 44-year-old husband, who had battled amyotrophic lateral sclerosis (ALS) for the last six years.
"I was literally on the phone with the funeral director, and the other line beeped in and it was my doctor, and so I clicked over and answered it," Tessie Sylvester, 36, told WCCO. "That's when she said, 'It's cancer and it doesn't look good.'"
MOM DIES DAYS AFTER WATCHING YOUNGEST DAUGHTER GRADUATE HIGH SCHOOL
Sylvester was diagnosed with adenocarcinoma, which forms in mucus-secreting glands. Doctors have been unable to determine the primary source of the cancer, which metastasized to her liver and lymph nodes, meaning surgery is not an option, according to the family's GoFundMe page.
"I was't tired, I wasn't sick, I wasn't in pain," she told WCCO. "I think John went when he did because he knew that I needed some protection from another place, to stay with our boys."
Sylvester's husband, John, had found comfort in knowing that his wife would care for their two sons, ages 6 and 5, after he died, according to a post on the family's GoFundMe page. Sylvester said she will likely have to miss work with her health now a major concern, so friends, family and strangers have raised more than $62,000 to help the family in just two days.
NEW HAMPSHIRE STUDENT CREDITED WITH SAVING CLASSMATE'S LIFE WHILE ON FIELD TRIP
"I am just going to enjoy every moment I can with the boys," Sylvester told WCCO. "So any little bit that I don't have to worry about – as far as where the money's going to come from – it gives me so much peace."