Mom of 3 shocked to learn she's expecting sextuplets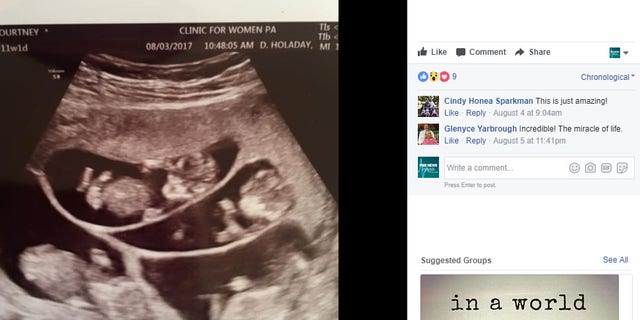 An Alabama couple hoping to give their three boys a sibling turned to fertility medication after suffering a miscarriage in January, and just a few weeks later learned that they're now expecting sextuplets.
"It was the shock of our lives," Courtney Waldrop, of Albertville, told The Gadsden Times.
Waldrop and her husband, Eric, were in for another shock when a second ultrasound revealed eight sacs.
10-YEAR-OLD INDIA RAPE VICTIM UNKNOWINGLY GIVES BIRTH TO BABY GIRL, REPORT SAYS
"We were distraught, worried, scared," she told the news outlet, before adding that a third appointment showed two of the sacs were empty.
In addition to the health risks Waldrop, who is 13 weeks pregnant, now faces, doctors are hoping the babies make it to 28 weeks gestation before they are born. She is scheduled to deliver at Huntsville Hospital, which has never delivered sextuplet siblings before, The Gadsden Times reported.
"The risks are crazy," she told the news outlet. "They are monitoring me closely, taking good care of me."
The couple, who have been together since middle school, said their faith in God took over after they heard all six fetal heartbeats.
TERMINALLY ILL DAD TO CELEBRATE CHRISTMAS EARLY WITH 4 KIDS
"We turned it over to God and we realized he was going to get us through it," Eric, a landscaping business owner, told WHNT.
The family, which includes an 8-year-old big brother and 5-year-old twins, is hosting a gender reveal party and Glow Run 5K fundraiser on Aug. 26 at a local park. While there's no cost to register, any donations will go toward caring for the sextuplets.
Waldrop started the "God's Divine Nine-Miracles in the Making - Waldrop Sextuplets" Facebook page to share the family's experience with their community.
"God has given us these babies, and He has a plan," she told The Gadsden Times. "And it's bigger than ours was."