Mom makes powerful statement by posting photo of triplet pregnancy scar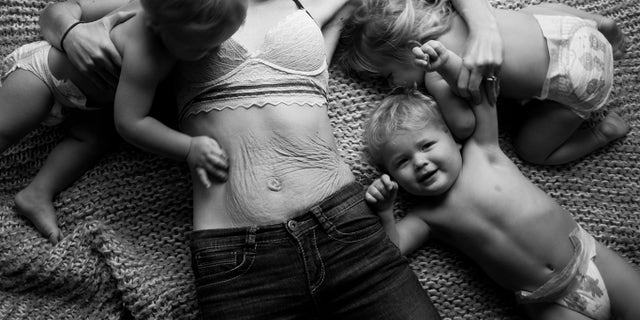 As any mother would agree, pregnancy can alter the body in more ways than one, and sometimes, those changes are permanent and conventionally unwanted.
But for Desiree Fortin, of Encinitas, California, an unexpected comment caused a shift in perspective for the new mom of three.
In late January, Fortin wrote a viral post on her blog about two strangers who congratulated her within a week on her nonexistent pregnancy. Fortin, 30, had given birth nearly a year and a half prior and had excess skin from carrying her triplets, but she neither lashed out nor corrected the strangers for their mistake. Rather, she began reflecting on her changed midsection and what it symbolized.
"I felt self-conscious, but I also thought, 'Do these hope wounds mean something to me?'" Fortin, 30, told Fox News.
Online, Fortin has posted several photos of her "hope wounds" — the term she uses to describe the scars on her belly after giving birth to Charlize, Sawyer and Jax.
After thinking about the strangers' comments, Fortin determined her new belly wasn't unattractive. It was "beautiful."
"This is what is special," she said. "All the little sags and the muffin top that rolls over my jeans — it all means something. And behind every single one of those scars, for every mom, we all have a story."
She told Fox News that she posted the raw photos and blogged about her experience to celebrate not only her body, but the bodies of every mother who has gone through what she has.
"We all have a story, and we need to embrace that rather than shame our bodies because women are strong human beings," said Fortin, who began blogging in spring 2015 during her infertility struggle.
For Fortin, her scars represent that pregnancy journey — including her diagnosis with polycystic ovary syndrome (PCOS), which is linked with infertility, to the sleep deprivation and postpartum depression she battled after childbirth.
"[The scars] are a reminder that we went through a lot to have our children, and we should be proud of that," Fortin said.