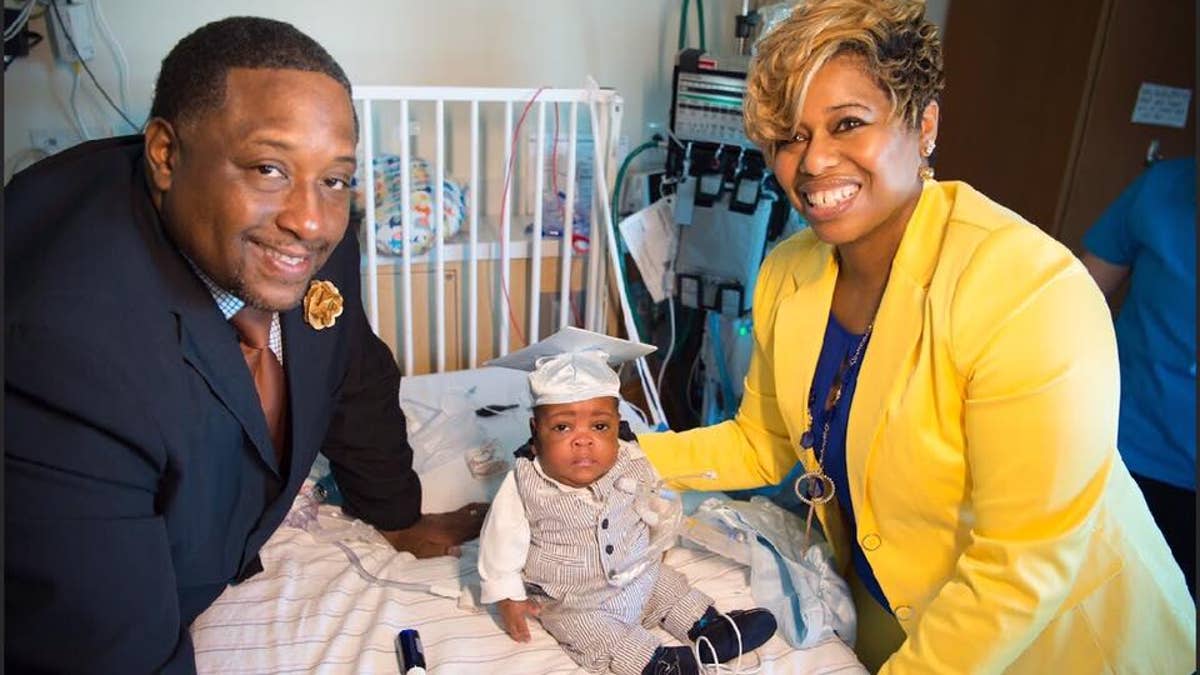 Last year, a woman's emotional "bun in the oven" pregnancy surprise for her husband went viral. The journey Dana and Arkell Graves and their son, Kaleb "Baby Bun" Graves, have been on since then is a remarkable one that, finally, appears to have a happy ending.
Dana and Arkell had been trying to start a family for years, but went through four miscarriages and one stillbirth at six months' gestation. After adopting a son, Keelyn, now 14, Dana, who believed she would never have a biological child, started walking with her friends but wasn't losing weight.
She went to the doctor to find out why—and discovered she was nearly five months pregnant. But, less than a month after the Graves posted their pregnancy announcement on YouTube, Kaleb was born 17 weeks early, on Oct. 20, 2015.
On Tuesday, after nearly a year in the neonatal intensive care unit, Kaleb was released, Fox 8 reports. The Graves posted video of Kaleb sleeping in the car on the way home to Facebook, where they had previously told friends and followers that, in anticipation of him coming home, they had "practiced using the home ventilator, sitting in a car seat, mom and dad handling all of his care and medical needs for 12 hours at a time." The family was driven home from the hospital in a limo.
In March, People reported that Kaleb had gone through heart surgery, had chronic lung disease that required him to be intubated, and had fluid drained from around his brain.
He weighed less than a pound at birth, WRIC reports. "This is what we've prayed for so we believe God will give us an unending supply of strength to handle any situation," the Graveses posted on Facebook in anticipation of his release.
A GoFundMe campaign has raised nearly $10,000 for the family. (An unborn baby survived a car crash that killed his mom.)
This article originally appeared on Newser: Her Pregnancy Went Viral. Then, a Year in NICU