Mom claims popular toy took days to untangle from daughter's hair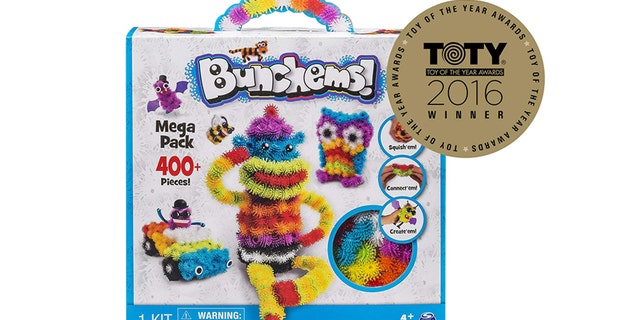 An Arkansas mother has a stark warning for parents about a 2016 "Toy of the Year Award" winner after her 5-year-old daughter lost a chunk of her hair and spent over 12 hours trying to untangle the toys from the girl's long locks.
Jasmine Nikunen earlier this month said that her daughter, Scarlett, was playing with her little cousin when the 3-year-old dumped a bucket of "Bunchems" in her hair. Nikunen told THV11.com that her daughter's reaction was to try to shake them out, which only created a matted mess.
BOY IMPALED BY TREE BRANCH WALKED SISTER HOME BEFORE COLLAPSING, FAMILY SAYS
"I thought we were never going to get them out," Nikunen, who reportedly turned to Facebook for help after several unsuccessful attempts, and then went through about a dozen containers of coconut and vegetable oil while trying to shake the toys free from Scarlett's hair, told the news outlet. "It took six hands 12.5 hours to get them out."
A warning on the toy's packaging advises consumers to "Keep away from hair. May become entangled. Keep away from pets." It also warns to keep away from children under 3 years of age because of small parts.
But Nikunen warned that parents should watch their children while the toy is around.
TODDLER WHO DIED AFTER DENTAL PROCEDURE WAS HOOKED UP TO EMPTY OXYGEN TANK AS STAFF MUTED HEART ALARM: LAWSUIT
Bunchems are advertised as a "hands-on activity kids can get creative with," and described as "easy to gather together and put away – no stickiness, griminess or messiness to worry about."
CLICK HERE TO GET THE FOX NEWS APP
The toy's developer told TVH11.com that after the product launched in 2015, the company released an instructional video on how to detangle the toy from hair due to several reports from consumers.