Michigan teen's 'promposal' to disabled best friend goes viral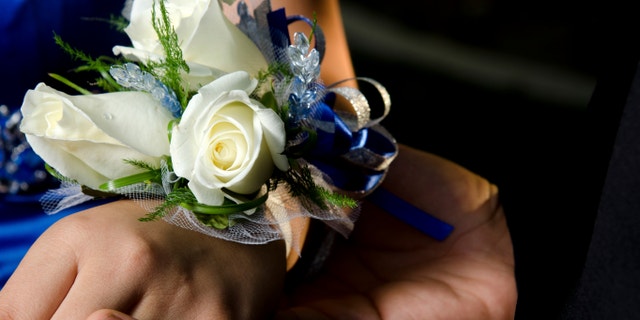 NEWYou can now listen to Fox News articles!
As teens across the country nervously ask their dates to prom, one "promposal" video is touching hearts for its show of friendship. Michigan teen Vee Nguyen asked her friend Ben Davis, a special-needs student, to the big dance during a high school pep rally on Friday.
In the video— which had more than 2.7 million views as of Wednesday morning— Davis, 16, is presented a large box with tape across the top as classmates from Everett High School in Lansing, Michigan, watch from the bleachers, the Detroit Free Press reported.
"It says, 'I'll ask you to prom when pigs fly!'" the announcer says. A student opens the box and pink balloons decorated to look like pigs float out.
Davis gapes, and a bystander turns him around in his wheelchair to see a line of girls in T-shirts spelling out "Prom?" with Nguyen wearing a shirt with a gold heart at the end.
Nguyen approaches Davis, and he pulls out a red rose from his wheelchair for her as the crowd cheers even louder. Their prom is May 13.
According to the Detroit Free Press, Nguyen and Davis became friends in 2014 during his freshman orientation, for which she volunteered with the school's program to support special-needs students.
Davis has Pantothenate Kinase-Associated Neurodegeneration (PKAN), a rare condition caused by mutations in the PANK2 gene. Patients typically manifest gait problems around age 3 then develop symptoms including rigidity and spasticity, according to the Neurodegeneration with Brain Iron Accumulation (NBIA) Disorders Association.
"I started talking to Ben and seeing him every day," Nguyen told the newspaper. "I would eat lunch with him, and we would have short conversations since it's hard for him to speak."
Since the video has gone viral, Nguyen has received positive reactions on Facebook, and she hopes the outpouring will carry a powerful message beyond her high school.
"Appearance will eventually get old, but personality is what [makes] a person beautiful," Nguyen told the Detroit Free Press. "And if everyone could look past the physical appearance every time they meet someone, this world would be a better place."