Miami surgeons remove Haitian girl's massive tumor in 12-hour surgery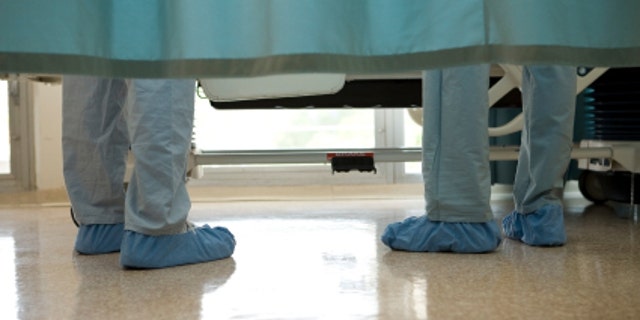 NEWYou can now listen to Fox News articles!
An 8-year-old Haitian girl has a new lease on life after surgeons at a Miami hospital removed a massive tumor that stretched her eye, nose and grew to hang out of her mouth causing her teeth to dislocate.
Neissa Azor was 3 when her mother noticed a bump had appeared on the right side of her face, the Miami Herald reported. She was forced to eat soft food and had to stop going to school when fearful parents ordered their children to stay away from her.
"It really hurt her, and she couldn't understand why," Fernande Romelus, Azor's mother, told the Miami Herald through a translator. The tumor also sometimes bled and caused her pain.
It wasn't until Elaine Lewis visited Azor's hometown while doing mission work that the little girl was offered help. Lewis searched for months before she found Calvin Babcock, a Miami resident and chairman of Baptist Hospital in Miami who co-founded Living Hope Haiti Christian Mission. Babcock offered to take on Azor's case and arranged for visas, a medical team and plane tickets to Miami.
"We were all a little taken aback by the size of the lesion," Dr. Joseph McCain, an oral and maxillofacial surgeon at Baptist, told the Miami Herald.
"Neissa started to have a rapid acceleration of the growth of the tumor. We were all quite concerned about that," he said.
Azor underwent her first surgery Thursday, Sept. 24 for tumor removal, the newspaper reported. She then underwent reconstructive surgery on Friday, Sept. 30. In total, it took about 12 hours for 17 doctors to remove the tumor, and reconstruct her jaw out of rib bone and skin from her leg.
Azor has a pink scar from her eyebrow to her lip and across her cheek, the Miami Herald reported. Part of her recovery includes being reminded to close her mouth, which had been stretched by the tumor. Her medical team is waiting to learn whether the tumor was cancerous, and is planning further procedures for dental implants and jaw reconstruction.
"We're set up to monitor her going forward— as long as it takes," McCain told the newspaper.
Through a translator Azor said she wants to study to become a maxillofacial surgeon so that she can give back.