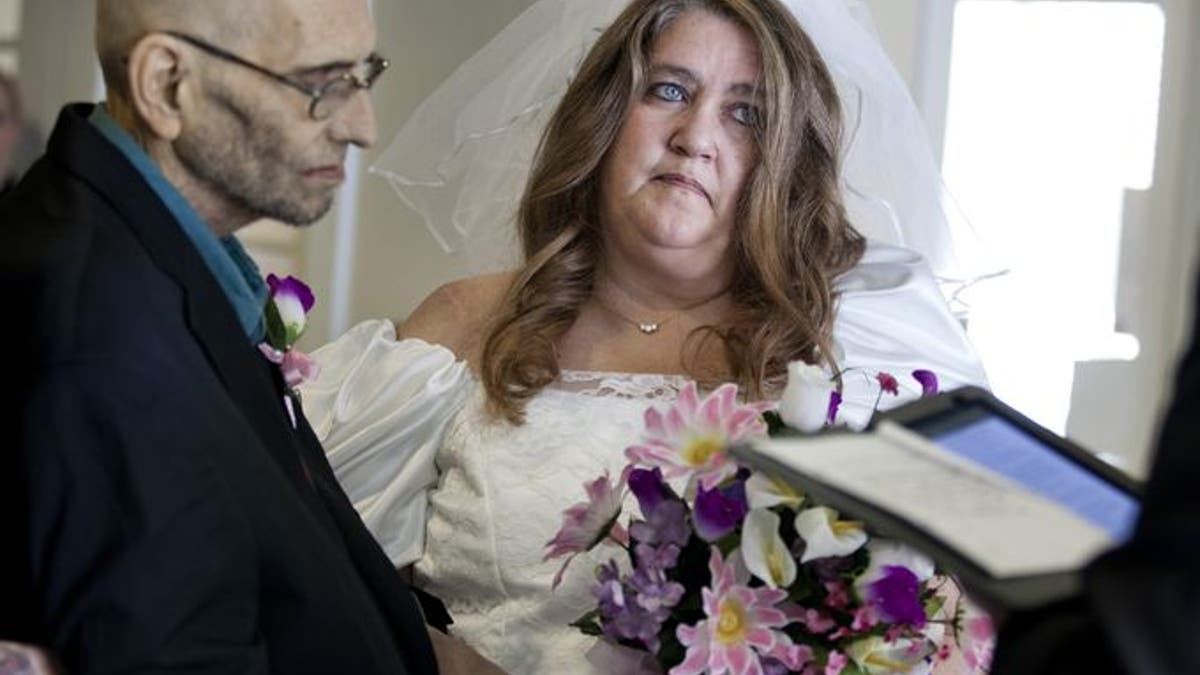 The Michigan hospice center where a man with just days to live is being cared for helped grant his last wish Wednesday, by putting together a wedding so that he could marry his fiancée.
Daniel Robertson, 63, was diagnosed with stage four liver cancer in January, The Times Herald reported. Doctors told him he had three to six months to live, so he and his then-girlfriend Leeanna, who he had met online in 2009, began planning their marriage.
"While I was excited to finally be marrying him, I was heartbroken," Leeanna Robertson, 46, told The Times Herald of his diagnosis.
They had set the wedding for Feb. 27, but a nurse told the couple he likely wouldn't make it.
"We planned the wedding for next Friday, but then his nurse said he wouldn't make it to his wedding," Emily Quandt, a Blue Water Hospice Home social worker who is helping to care for Robertson, told The Times Herald.
"So we organized this in 24 hours," she said.
Robertson's health had rapidly declined recently, and he began having trouble breathing and is reliant on a wheelchair. On Wednesday however, it wasn't about his cancer.
"I'm feeling fantastic today," he told The Times Herald at the ceremony. "As she walked down the aisle I was thinking, 'What took her so darn long to get ready? She had me waiting at the altar for her.'"
Volunteers and vendors from the community came together to donate a cake, flowers and a wedding dress for the occasion, and the couple's families were on hand to witness it.
"I cried when I heard the diagnosis," Angel Maushund, Leeanna's daughter told The Times Herald. "But it's going to impact my mom even more. In the past week his face has become sunken and yellowed. The doctors told us he is fading fast now," she said.
For now, the newlyweds are enjoying the moments they have together.
"I have finally married my true love and my soul mate," Leeanna told The Times Herald. "We wanted nothing else but get married."