Lawsuit alleges Michigan illegally obtains newborns' blood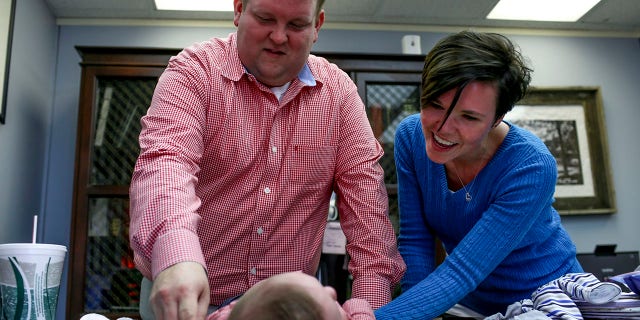 HEMLOCK, Mich. – A group of Michigan parents have filed a lawsuit alleging that the state didn't obtain proper consent to draw or store their newborns' blood for medical research.
Philip Ellison filed the federal lawsuit on behalf of the parents, saying Michigan's practice of drawing infant blood is unconstitutional, MLive.com reported . The lawsuit also alleges that there aren't protections in place to stop police or others from accessing information that can be derived from the stored blood samples.
"Essentially, the state has stolen consent from parents," said Ellison, an attorney based in Saginaw County.
BRETT FAVRE HAS MEMORY ISSUES, MAY HAVE HAD 'THOUSANDS' OF CONCUSSIONS
The lawsuit isn't trying to stop newborn testing, but aims to better inform and return parents' right to decide, he said.
The blood of more than five million people is being stored, according to the Michigan Department of Health and Human Services.
The state started drawing newborn blood to test babies for ailments in the 1960s, the department said. The initial list started with six maladies and has grown to more than 50 conditions today. Michigan began storing the blood samples in the mid-1980s.
Lawmakers amended the state's Public Health Code in 2000 to allow the use of newborn screening blood spots in health research. The BioTrust program was later formed with an advisory board to oversee the stored blood and its use in research.
People born between 1987 and 2010 can opt out of blood research and storage by contacting the state, according to the department. For children born after May 2010, parents can opt out by declining to sign over consent. Blood spots will be stored unless a parent asks the state to destroy them.
Lynnette Wiegand is a mother of four and a plaintiff in the case. She assumed that her children's blood would be discarded after testing.
Michigan's consent form should separate and clearly specify consent for blood to be drawn, for use in medical research and for storage, she said.
NURSE GETS ORDAINED ONLINE TO MARRY COUPLE HOUR BEFORE CHILD'S BIRTH
Lawsuits challenging blood storage practices in other states have led to the destruction of millions of blood samples.
"It really goes counter to what other parents might want and the importance of them having a say in the process to eliminate samples from the bio bank," said Natasha Bonhomme, who works for the nonprofit Genetic Alliance.
Newborn screening occurs without consent as part of public health in every state, she said. She believes it's critical to separate the issue of consent for drawing blood and consent for storing or testing the blood.
She said the lawsuit could indicate that Michigan needs to do a better job at informing people about their processes.