Israel's Bonus says lab-grown bones successfully transplanted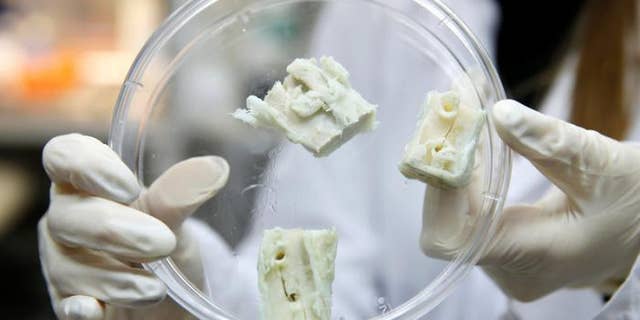 HAIFA – Israeli biotech company Bonus Biogroup's lab-grown, semi-liquid bone graft was successfully injected into the jaws of 11 people to repair bone loss in an early stage clinical trial, it said on Monday.
The material, grown in a lab from each patient's own fat cells, was injected into and filled the voids of the problematic bones. Over a few months it hardened and merged with the existing bone to complete the jaw, it said.
The announcement was made in a statement to the Tel Aviv Stock Exchange and Bonus Biogroup is presenting its results at the International Conference on Oral and Maxillofacial Surgery in Spain on Monday.
The company, which has raised $14 million, said it plans to dual list on Nasdaq in the coming months.
"For the first time worldwide, reconstruction of deficient or damaged bone tissue is achievable by growing viable human bone graft in a laboratory, and transplanting it back to the patient in a minimally invasive surgery via injection," said Chief Executive Shai Meretzki.
Meretzki previously founded Pluristem Therapeutics, which works with stem cells and is one of the more advanced Israeli biomed companies.
Ora Burger, vice president of regulation affairs at Bonus Biogroup, told Reuters the transplant "was 100 percent successful in all 11 patients".
"Now we are going to conduct a clinical study in the extremities, long bones," she said.
(Reporting by Ari Rabinovitch; editing by Susan Thomas)