How gut health impacts body weight — and the top foods to eat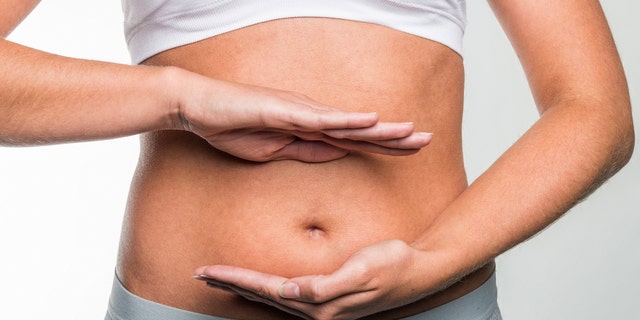 If you're trying to lose weight, you've likely thought of your belly as a target area for slashing fat.
But it turns out that what's underneath your gut may be the key not only to your dream body — but also, lasting health.
A 2014 study published in the journal Pediatric Research, for example, suggests gut health can impact our waistlines, as well as our metabolic and digestive health, our immunity and our energy levels. Another study, published in 2015 in Circulation Research, similarly found that the bacteria living in our guts can impact weight, fat, and good cholesterol levels — all factors necessary to help maintain good cardiovascular health.
THIS FIT MOM DROPPED 6 DRESS SIZES — BY LOSING ONLY 2 POUNDS
Believe it or not, we have trillions of microorganisms living in our bodies, some of which help us digest food and develop our immune systems, the Circulation study authors wrote.
The good news is that, if you're a healthy adult, you can boost gut health through your diet by opting for foods that contain "prebiotics" and "probiotics."
A probiotic is a live bacteria that you're consuming, Philadelphia-based nutritionist Marjorie Nolan Cohn, author of "The Belly Fat Fix," told Fox News.
"Probiotics are the new bacteria that we consume — they do their job in the the large intestine where they seed more bacteria," she said. "This helps grow more good bacteria, increase diversity of bacteria, and helps to balance what's already there."
Prebiotics, on the other hand, are not alive — they are the "non-digestible" parts of the food we eat, such as fiber. Prebiotics are a nondigestible food ingredient that promotes the growth of beneficial microorganisms in the intestines.
If you want your good bacteria to grow, you need to eat foods that have prebiotics. By feeding your existing bacteria healthfully, you improve your microbiome, Nolan Cohn said. "Because prebiotic-containing foods are high in fiber, eating them can help fill you up, which then can help with weight loss."
HERE'S HOW MUCH YOUR GENES MAY IMPACT YOUR KIDS' WEIGHT
Fiber isn't digestible, so it takes longer to make its way through your digestive tract. In your large intestine, the bacteria is feeding on the fiber and creates fermentation (or gas). Think of gas as a side effect of … breaking down fiber-rich food — it takes more work and therefore can help you feel fuller longer.
"Ultimately you're eating less when eating prebiotic-(fiber-)rich foods, and that's most likely how these foods can help you manage your weight," Nolan Cohn said.
With all of these foods, you'll still get some benefits if they are cooked, but Nolan Cohn suggested eating them in raw form because those feel-full fibers get broken down when you cook the foods.
EAT THESE 7 FOODS TO FIGHT FAT
Here are 6 prebiotic foods to eat for good gut health:
Onions
Whether cooked or raw, onions are packed with prebiotic properties and contain inulin, a type of fiber. "The bacteria in the gut really has to go to town to break up inulin," Nolan Cohn said. If you're an onion lover, you know they can cause gas. But that's just a side effect of the bacteria working on the fibers in our gut.
Garlic
While cooked and raw garlic contain prebiotics, raw garlic contains inulin and fructooligosaccharides, which can boost microflora in the gut and may help protect against some gastrointestinal diseases, research suggests.
THE MOST DANGEROUS AREAS FOR BODY FAT
Bananas
Eating a slightly under-ripe banana versus a really ripe banana can be beneficial for your gut health, Nolan Cohn said. "When you eat a banana that's slightly under-ripe, you're getting more starch than sugar content. The bacteria in your gut needs to work harder to break that down. The prebiotic is feeding the gut bacteria, helping it grow," says Nolan Cohn.
Cabbage
Cabbage and sauerkraut can have beneficial impacts on gut health, a 2014 study in Global Advances in Health and Medicine suggests. "If you're hypertensive or you're overweight, and you're looking to improve your gut health, sauerkraut may not be the answer for you because it's high in sodium," Nolan Cohn said. However, you could still add cabbage to a raw salad or some other recipe to reap its benefits.
7 FOODS ALREADY IN YOUR KITCHEN THAT CAN HELP FIGHT WRINKLES
Beans and legumes
Pulses are rich in fiber, particularly a type of fiber called resistant starch. "Resistant starch is a type of starch that is actually a little bit lower in calories than standard starch, simply because our body has to work harder to break it down," Nolan Cohn said. Resistant starch also feeds good bacteria.
Potato salad
Potatoes that have been cooked and then eaten cold, like potato salad, are high in resistant starch. A healthier example would be a vinegar-based potato salad or potato salad with avocado, Nolan Cohn said. "Cooking the potato breaks the fibers down, but once they're cooled again, those fibers become stronger. Then, when you consume them, there's more for the bacteria to work on."