How 6 NFL players prep for game day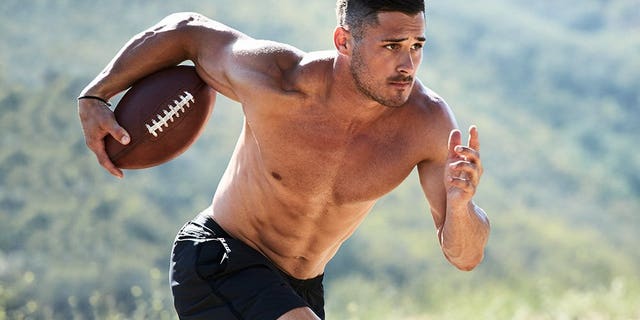 NEWYou can now listen to Fox News articles!
For NFL players, Monday morning can feel like waking up after being in several car crashes. What's more, they have to be ready to rumble again in six days.
The banged-up players start treatment, while the rest of the guys begin with gentle lifting and movement drills to start the recovery.
"As much as it hurts to work out after a game, it helps that much more," says Danny Amendola, the 5'11", 190-pound, 30-year-old Patriots receiver.
In the October issue of Men's Health (available now on newsstands and the Apple iTunes Newsstand), Amendola and other NFL players reveal the details of how they get ready to perform at their peak—less than a week after taking a beating. Keep scrolling for a preview.
DERRICK JOHNSON OBSESSES OVER GAME FILMS
"Everybody in the league is physically gifted and can run fast and jump high," says Kansas City Chiefs four-time Pro Bowl linebacker and defensive captain Derrick Johnson. "What sets you apart is anticipation, knowing where a play is going."
Johnson, who's 33, ruptured his Achilles tendon in 2014; yet he's still often the first to the tackle. He credits film study and a decade of experience.
"Along with team film sessions, I watch film every night at home," he says. "I'm looking for tendencies I can exploit and that my whole unit can exploit, especially on third downs."
Related: Related: 9 Jaw-Dropping Weight-Loss Transformations You Have to See to Believe
TERRANCE WILLIAMS WORKS ON HIS GRIP
To snag a football flying at 45 miles an hour requires Hulklike hand strength—the kind an average guy needs in order to get his bags to Gate A in time for the shuttle, or to give a good massage.
But a study in the Journal of Hand Therapy found that men younger than 30 have a significantly weaker hand grip than their counterparts of 25 years ago.
Cowboys wide receiver Terrance Williams does grip-strength exercises at the end of his workouts. (Find your next body-shredding routine at the Men's Health Workout Center.)
Try this: Toss a tennis ball between your hands, squeezing it as hard as you can for 10 seconds between tosses. Repeat 10 times with each hand. The farmer's walk (walk for a minute while carrying heavy dumbbells) also builds grip strength.
J.J. WATT USES A FLOTATION TANK
Houston Texans linebacker J.J. Watt chills out and even naps in his home flotation tank.
"I love it. Sleep is something people overlook," Watt says.
Minimizing your sensory arousal allows you to relax more deeply and alleviates stress. A long soak in a bathtub with the lights off can work, too.
DANNY AMENDOLA DOES YOGA
Like many NFL players, Amendola turns to yoga as a therapeutic counterbalance to the physical violence of the game.
"It keeps my muscles pliable," he says.
Yoga is low impact; yet you're shredding your core, sharpening your balance, and potentially expelling stress. On three: Namaste!
(To start your own practive, check out A Beginner's Guide to Yoga.)
GREG OLSEN GETS HYDRATION DOWN TO A SCIENCE
Suffer even minor dehydration and your performance sinks. The Panthers—including tight tend Greg Olsen—are weighed before and after practice during camp to determine their sweat rates and hydration plans.
You should do the same. For every pound you've lost during a workout, drink 16 ounces of water.
And use the urine test: The lighter the color, the better. Iced tea is trouble; lemonade, sweet, of course.
Related: Normal-Sized Guys Who Are Freakishly Strong Tell You How They Did It
JUSTIN PUGH WATCHES HIS FAVORITE MOVIE
"I watch the movie 300 the night before every game," says New York Giants offensive guard Justin Pugh. "It gets me jacked up. I also drink two Pedialytes to prevent dehydration."
For more NFL performance secrets—and a 28-day plan for six-pack abs—pick up the October 2016 issue of Men's Health, on newsstands now!