Hospital staff circulated photos of patient's genital injury, investigation reveals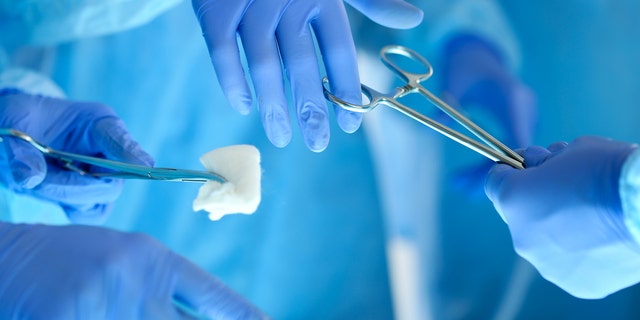 NEWYou can now listen to Fox News articles!
Two doctors at a Pennsylvania hospital were suspended after a witness claimed a number of hospital staffers formed a "cheerleader type pyramid" to take photos and videos of a patient with a genital injury. A state investigation revealed the incident occurred on Dec. 23 at UPMC Bedford Memorial, and involved a patient who required surgery for a genital injury to remove a "foreign body," PennLive.com reported.
The hospital's administrators were notified in January after a witness complained about a series of photos circulating among staff members, the news outlet reported. The state's health department opened its own investigation into the incident in May.
PHARMACIST ACCUSED OF TRYING TO KILL MOTHER WITH INSULIN
"In January a hospital employee came forward to complain about photographs that were circulating around the hospital, of a patient under anesthesia while in the [operating room]," according to the health department's investigation. "The patient had a genital injury and OR staff had apparently taken photos and video of the patient using their personal cell phones, and were showing the photos to other hospital staff."
As a result, one doctor was suspended for seven days while another received a 28-day suspension.
While one employee admitted to receiving a photo from a staff member in the anesthesia department, another claimed a doctor requested a photo be taken with an operating room camera to use for "future medical lectures." The employee claimed the camera was broken, prompting use of personal phones, but investigators later found the camera to be working, albeit "too complicated to use."
Another employee who was attending to the patient said "at one point when I looked up there were so many people it looked like a cheerleader type pyramid," PennLive.com reported.
The hospital is also currently in the process of replacing the surgical services nursing director as a result of the investigation.
TEEN WITH 'RAPUNZEL SYNDROME' DIES FROM EATING HER OWN HAIR
"UPMC is committed to ensuring that our patients' health information remains confidential," a hospital statement to PennLive.com said. "The behavior reported in this case is abhorrent and violates the mission of UPMC Bedford and the overall values of UPMC. Upon discovery, UPMC quickly self-reported the incident to the Pennsylvania Department of Health and took appropriate disciplinary action with the individuals involved."
The statement said the health department approved the hospital's plans for corrections and that the patient involved in the incident has been notified.
"Since this is an ongoing investigation we are not at liberty to comment further at this time," the statement said.