High school students boycott school cafeteria over new lunch restrictions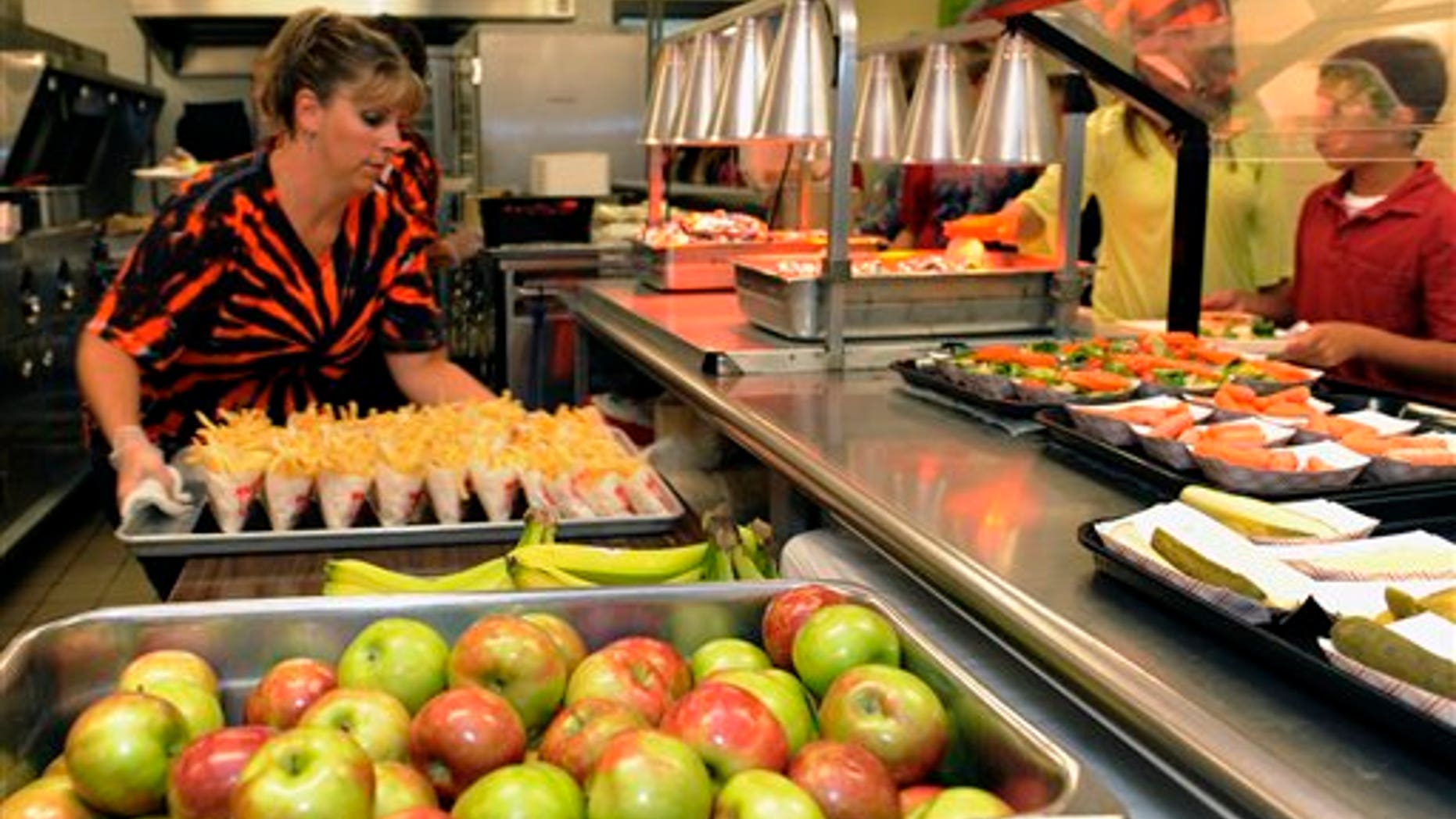 With new federal guidelines dictating what is served at school cafeterias during lunch time, school districts all over the country have reworked their menus to accommodate the new rules.  The changes include serving more whole grains, daily doses of fruits and vegetables, less sugar and salt, and only low- or non-fat milk.
For the first time, school lunches must have age-aligned calorie maximums, capping the amount of calories high school students eat to around 850 calories.  The new restrictions all come from the updated Dietary Guidelines for Americans from the U.S. Department of Agriculture and are funded by the Healthy, Hunger-Free Kids Act of 2010 – legislation promoted by Michelle Obama.
While the changes may seem like a step in a healthier direction, not all students are finding them so tasty.  On Monday, about 70 percent of the 830 students at Mukwonago High School in Wisconsin who typically buy their lunch boycotted the school's cafeteria, the Milwaukee Journal Sentinel reported.  The high schoolers were joined by middle schoolers in the district, reducing the number of lunches sold by half.
According to the Journal Sentinel, the Mukwonago School District is not alone, as many other schools nationwide are also reporting students frustrated with the new rules.
One such student from Mukwonago High, Nick Blohm, said the healthier food is not so much the problem as it is portion size.  A 6-foot-3-inch, 210-pound linebacker, Blohm said he burns around 3,000 calories during three hours of football practice and weight training.  He's also the class president, and he's taking various Advanced Placement classes.  But the new caps, he said, are making it harder to perform both physically and academically.
"A lot of us are starting to get hungry even before the practice begins," Blohm told the Journal Sentinel. "Our metabolisms are all sped up."
Another issue for students at Mukwonago is the new pricing, the Journal Sentinel said. A 10-cent price increase was added to lunches by the USDA in order to make lunches closer to the $2.86 it typically reimburses for students who qualify for free lunches.  That increased raised the new lunches from $2.40 to $2.50.
Not only are students upset with the new changes, but Mukwonago officials are on board as well.  While students and staff members alike agree that childhood obesity is a major concern, many are saying the new lunch guidelines are too abrupt and don't take students' unique lifestyles into account.
"I could not be more passionate about this," Pam Harris, the Mukwonago district food service supervisor and a registered dietitian, told the Journal Sentinel. "I want to solve this problem. But limiting calories in school lunch is not going to help the overweight kid. What happens at home is a major piece of that puzzle."
Mukwonago had students fill out cards about what they did and didn't like about the new lunch.  According to the Journal Sentinel, Harris plans to send the cards to the USDA, along with parent letters, in hopes that representatives will allow their school district and others to integrate their new lunch plan over time.