High school football player collapses during Mississippi game, then dies
A community in Mississippi is in mourning after a high school football player collapsed and died at a game on Friday.
The Marshall County Schools Superintendent said in a statement to FOX13 Memphis that 16-year-old Dennis Mitchell, who attended Byhalia High School about 30 miles southeast of Memphis, was playing an away game in Coahoma County.
"According to his coaches, after playing a quarter and a half, the defensive lineman came off the field during the second quarter, and was cheering the offensive on the sidelines. He then collapsed," the statement said.
Mitchell was then rushed to the hospital, but never regained consciousness.
"From what the coroner said last night, we do not know the cause of death," the statement said. "What we do know is that is a tragedy and a tremendous loss for his family, our student body, and faculty and staff. It is heartbreaking!"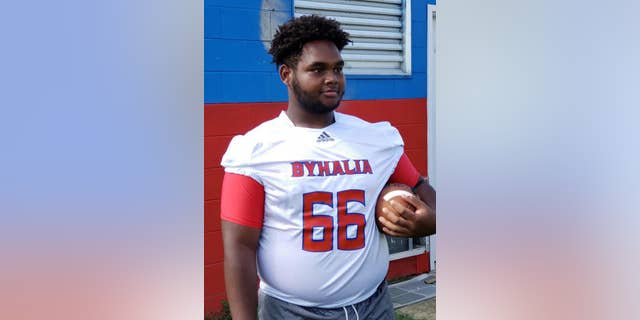 Friends of Mitchell told FOX13 that he got hurt early on in the game and began throwing up on the field. After being taken out of the game, the 16-year-old later asked to be put back in and collapsed after he began to play again.
TEXAS MIDDLE SCHOOL FOOTBALL PLAYER, 13, DIES AFTER MEDICAL EMERGENCY DURING PRACTICE
Christa Linville, who has known Mitchell since he was in elementary school, told WREG a similar series of events.
"He got off the sidelines and he was sick," Linville told WREG. "He was saying he didn't feel good, but just the type of person that he is, he didn't want to let his team down, so he continued to keep playing. And it just spiraled downhill from there."
The 16-year-old had hopes of taking his talents to the NFL, according to Linville.
"He would have gone far," she said. "He was very good in school, he was very smart. No matter if he played football or didn't play football, that boy was going places."
KANSAS COLLEGE FOOTBALL PLAYER DIES AFTER TEAM'S FIRST PRACTICE OF SEASON
Family members and friends are meeting Monday on the high school's football field for a memorial and balloon release in Mitchell's honor, according to WREG. The cause of death remains under investigation by officials.
The 16-year-old's death comes just days after a middle school football player in Texas died after experiencing a medical emergency during practice.
Fox News' Paulina Dedaj contributed to this report.