Heart transplant recipient dies on first day of school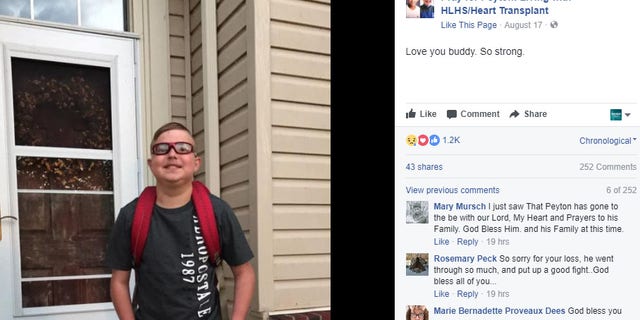 An hour after posing for his back-to-school photos, 13-year-old Peyton West was rushed to the hospital where he died, just five months after receiving a heart transplant. While his Ohio family is devastated by the loss, they said they are thankful to have the memories they made after his transplant.
West, who was born with hypoplastic left heart syndrome, had undergone three open-heart surgeries before his fifth birthday, and received the transplant in March. His family created the "Pray for Peyton: Living with HLHS/Heart Transplant" Facebook page to share his progress.
TERMINALLY ILL DAD TO CELEBRATE CHRISTMAS EARLY WITH 4 KIDS
On Aug. 17, an 8:38 a.m. post asked supporters to pray for West. A 12:05 p.m. follow-up post said the teen had died.
"Peyton passed away this morning at 10:45am." the post read. "We will post more when we know."
Later that evening, his dad shared West's back-to-school photo that had been taken that morning.
"He was perfect last night," Corey West, his father, told WCPO. "Perfect this morning. And then … it's just precious. Life is precious."
TODDLER CHOKES TO DEATH ON GRAPES
The grieving father said his son complained in the car on his way to school and said "I don't feel right. Something's wrong."
The exact cause of his death was not disclosed, but he had been hospitalized in late July with multiple symptoms. He was tested for possible organ rejection, but the results were negative and he was given new medications with a plan for a biopsy in three months, according to the Facebook page.
The Facebook page has since been flooded with messages of support for the family.