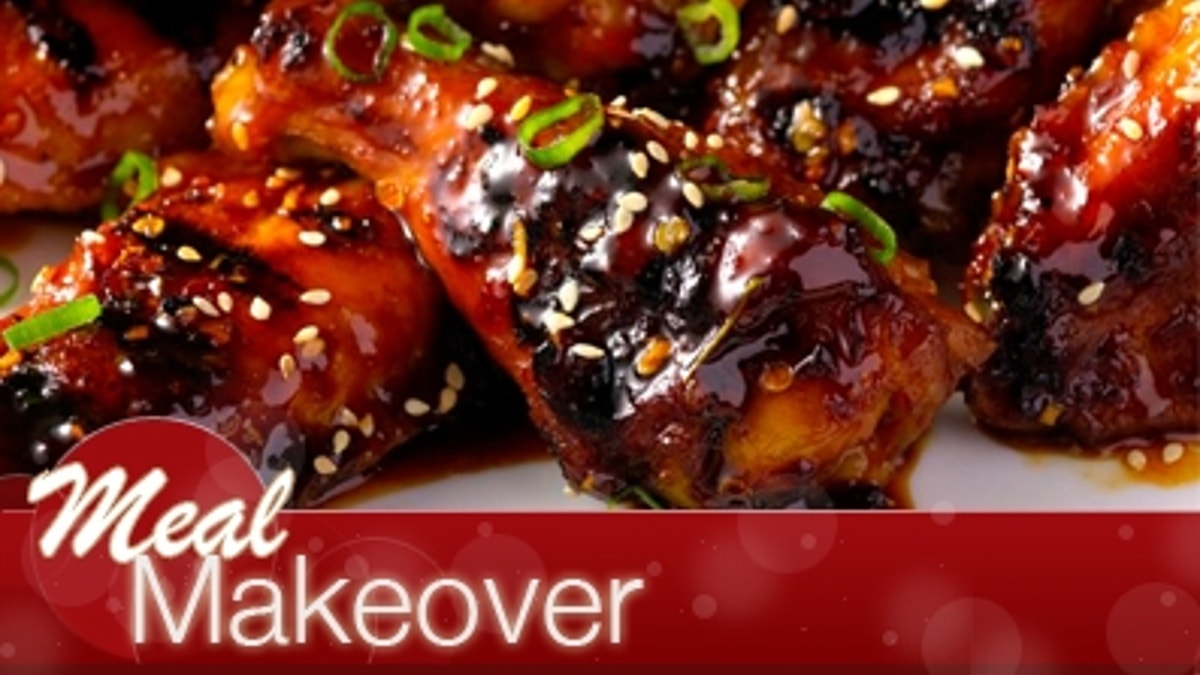 I've got to tell you, I used to think that wings had to be fried - probably because most grilled wings are burned and chewy and lack flavor.
So I set out to make some that will rock 'n' roll without getting fried.
What You Need:
* 5 pounds chicken wings
* 6 cups water
* 1⁄4 cup kosher salt
* 1⁄3 cup chili - garlic sauce
* 1 cup honey
* 2 tablespoons soy sauce
* 1⁄2 cup Sweet Soy Sauce
* 3 tablespoons sriracha sauce
* 1⁄4 cup apple cider vinegar
* 1⁄4 cup minced ginger
* 1 teaspoon ground sea salt
* 1 tablespoon freshly cracked black pepper
* 1 teaspoon sesame seeds, toasted
* 1 tablespoon minced green onions

Note: To toast the sesame seeds, just put them over low heat in a dry skillet and watch them carefully.
Directions:
1. Cut the wings apart at the joints, and discard the tips. In a large glass bowl, combine the water, kosher salt, ¼ cup of the chili - garlic sauce, and ¼ cup of the honey. Stir until the salt is dissolved. Add the wings and refrigerate for 30 minutes or up to four hours.
2. To make the basting and dipping sauce, in a small bowl, combine the remaining chili-garlic sauce, the soy sauce, sweet soy sauce, sriracha, the remaining honey, vinegar, and ginger and mix well. Set aside half of the sauce for serving in order to avoid contamination.
3. Preheat a grill to medium-high. Drain the wings and season them with sea salt and pepper. Grill the wings until golden, 15 to 20 minutes, turning as needed. When the wings reach the right color, continue cooking over indirect heat until they're at the desired doneness, then baste them with the sauce, turning as needed until the wings are glossy and well coated.
Garnish the wings with the sesame seeds and green onion and serve with the reserved dipping sauce
Serves: 4

Guy Fieri hosts four TV shows on The Food Network, including "Guy Off the Hook" and "Guy's Big Bite." He and his business partner own several restaurants, and in 2008, Fieri released his first book "Diners, Drive-ins, and Dives: An All-American Road Trip . . . With Recipes!" He is also host of the NBC show "Minute to Win It." Fieri lives in California with his wife and two sons.