Grieving family members meet recipients of daughter's donated organs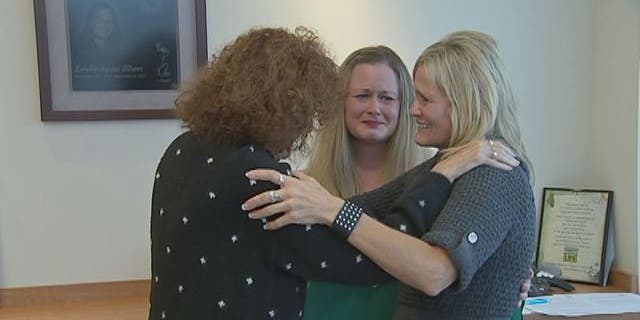 The grieving mother and sister of a 24-year-old woman who was killed while cycling met three of the five recipients whose lives were saved through her donated organs.
Stacie Farmer, who was killed five years ago, donated seven of her organs to five patients after her death on the day she would have turned 25, Fox 5 Atlanta reported. Prior to her accident, Farmer had told her family that she wished for her organs to be donated when she died. Her mother, Kathy, and sister, Lisa, were on hand to meet three of the patients Monday.
Sherri Halstead was on a transplant waiting list for two years before receiving Stacie's pancreas and kidney. She let Kathy and Lisa touch her stomach so that they could "feel" her.
"I wanted them to feel her in me," Halstead told Fox 5 Atlanta. "I wanted to be able to do that. I wanted to meet them because they have given me life and to thank them so much and to tell them I'm sorry that they had to lose someone very special to them in order for this to happen."
Kathy and Lisa also met with Vilma, who received Stacie's liver, which enabled her to stay healthy enough to deliver a baby girl, the news site reported.
"It feels like there is a part of her that just lives on," Kathy told Fox 5 Atlanta.
Stacie's other kidney went to a then-13-year-old Kevin Manzano who told the news site he was "very thankful."
The patient who received Farmer's lungs moved to Florida, and the patient who received her heart died two months ago due to unrelated causes.
"It's the only thing I can hold on to – the other lives that have come from her," Kathy told Fox 5 Atlanta.
The family hopes Stacie's act goes on to save even more lives by inspiring others to become organ donors.