Grandpa, mom and baby battle life-threatening illnesses together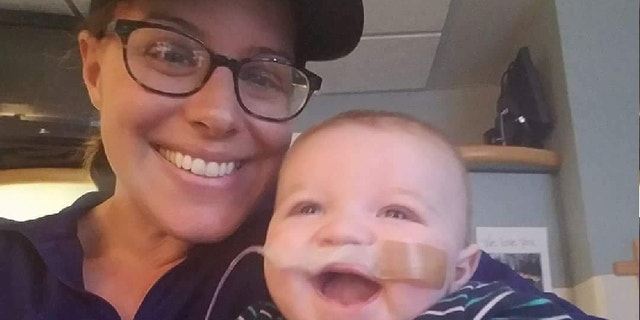 A family in Illinois took a hit in August 2016 when grandfather Jim Madros learned his brain cancer had returned after 10 years. Months later, his daughter Lucy Eliopulos, who had just given birth to her third child, George, received a brain cancer diagnosis of her own. Just weeks after that, a third blow came when George was diagnosed with a deadly respiratory infection at just 2 months old, ABC News reported.
"I think that when you have a child that's sick it can pull a lot of families apart," Dr. Astha Sharma, George's doctor in the pediatric intensive care unit at Loyola University Medical Center in Maywood, Illinois, told ABC News. "This illness, along with the illness Lucy, George's mom, had, it actually drew them together. Their spirit is very inspiring to the core. No matter what happened to George, they always remained positive."
FLORIDA MOM RETURNS HOME AFTER OKLAHOMA SURGEON REMOVES 'INOPERABLE' BRAIN TUMOR
Mandros, who is being treated by the same oncologist, radiologist and neurosurgeon as 37-year-old Eliopulos, decided to forego surgery and is undergoing multiple rounds of chemotherapy, ABC News reported. Eliopulos underwent surgery to remove her tumor and is now undergoing maintenance chemotherapy, ABC News reported. She had experienced double vision during her pregnancy and, a day after giving birth to George, received an MRI, which detected the cancer.
Meanwhile, George ended up being admitted to the same hospital as his mother after doctors diagnosed him with acute respiratory distress syndrome (ARDS). He was on a ventilator during his visit and nearly died three times, but now, he has recovered and is home with his family, ABC News reported.
"[ARDS], it's an infection that can affect both children and adults, and it is an overwhelming infection of the lungs where the lungs fill with fluid," Sharma told ABC News. "The lungs become inflamed, and the inflammation does not allow the lungs to deliver oxygen to the body."
TOWN CELEBRATES WEDDING, GRADUATION WITH BELOVED DOCTOR DAYS BEFORE HIS DEATH
Mandros, who is expecting grandchild number 20, told ABC News that he's drawn strength from the courage his daughter has shown throughout the family's battles.
"I don't know where she's getting the strength from," he told ABC News. "She's been a rockstar, I tell you. [I] cry still, but she stays strong. Lucy's tumor is much worse than mine. I wish I could take her tumor and put it in my head."
Eliopulos told ABC News that having George hospitalized was the hardest part of the last few months, but that she is looking forward to moving past the dual cancer diagnoses.
"These last five months, we haven't been able to be a family. … I'm hoping we move on from this and just live," she told ABC News.
Friends and relatives held fundraisers and set up a GoFundMe page to help cover medical expenses and keep supporters informed.