Girl teased for severely bowed legs gets transformative surgery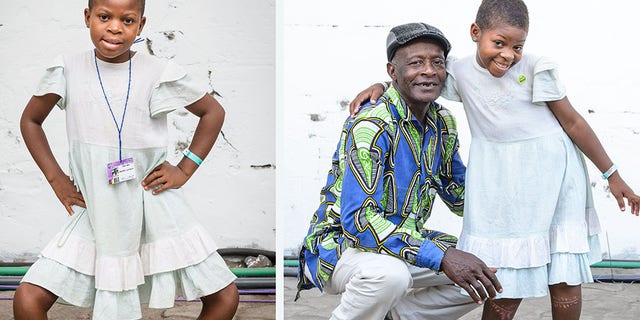 A little girl who was teased because her legs were so severely deformed will be able to walk, run and skip thanks to corrective surgery.
Newly released photos show how doctors were able to perform a transformative procedure in an 11-year-old, whose legs were so bowed they faced backwards.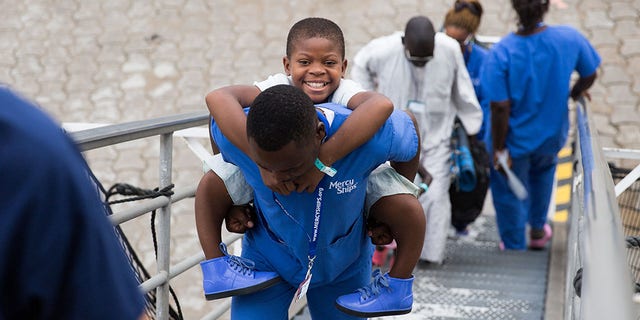 Justine, from Cameroon, was born with Blounts disease, a growth disorder of the shin bone which causes the lower leg to turn inward. According to the U.S. National Library of Medicine, the disability can get worse if not treated.
GREENSBORO TEEN FIGHTING GENETIC DISEASE TO GRADUATE
ON TIME
Walking became so difficult that nurses had to carry the girl up the gangway of Mercy Ships, a charity-run hospital ship that delivers free health care to underdeveloped countries.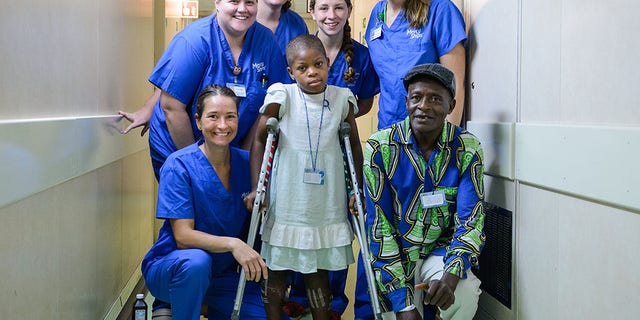 Doctors performed an operation in September 2017, cutting the bones in each leg, untwisting her limbs and setting them back in place with plaster casts.
Orthopedic surgeon Dr. Frank Hayon told SWNS, "Justine had an extreme case of Blounts disease with angular and rotational deformities of both legs rotating her feet 180 or essential backwards."
"To correct the deformity required us to do osteotomies or cut the bones in each leg and untwist her legs," he explained.
After five months of rehab, Justine took her last steps down the gangway last month and is now back home completely transformed.
AMPUTATING A LEG ENDS LIFELONG STRUGGLE, AND BRINGS JOY TO A WOMAN'S LIFE
According to a Mercy Ships spokesperson, prior to surgery Justine had to have special transport arranged for her to be able to go to school. "On the days it fell through, she had to walk 4km to school and back by herself which took a very long time," the spokesperson told SWNS.
"Kids were often mean to her; would tease her and run because they knew she couldn't chase them."
The spokesperson added, "Her favorite hobbies are running, playing jump rope, playing football, hide and seek, climbing trees ‒ all very physical, hands-on activities ‒ but she didn't let her severe limitations hold her back from them.
The schoolgirl, from Yaounde, in Cameroon, said, "There's nothing I can't do now."