Girl recovering from snake bite after 4 days in ICU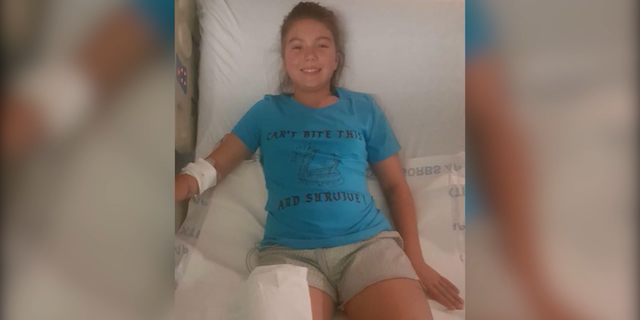 A Georgia middle schooler is warning others after a snake bite landed her in the hospital's intensive care unit for four days. Cecillia Gonzalez, 12, was playing in her friend's Dawsonville yard when she tripped over a tree root and landed within striking distance of a timber rattlesnake, Fox 5 Atlanta reported.
"It's kind of blurry from there, but then, all I remember is them helping me get up there to the house," Gonzalez, told Fox 5 Atlanta.
WOMAN BATTLING CANCER DIES AFTER EATING CONTAMINATED OYSTER
Gonzalez's foot swelled immediately and an adult called 911. She was airlifted to Children's Healthcare of Atlanta where she was placed into intensive care and given several doses of anti-venom.
"I was scared kind of, because I really didn't know what was going on but I felt weird," she told the news outlet.
ARMY VETERAN'S PARALYZED DOG GETS NEW WHEELCHAIR
A friend said the rattlesnake that bit Gonzalez did not rattle, or give any kind of warning before it bit her, making the need for caution even greater.
"Just make sure you watch where you're going, and be careful," she told Fox 5 Atlanta.