French bird flu poses no risk to humans, says agriculture minister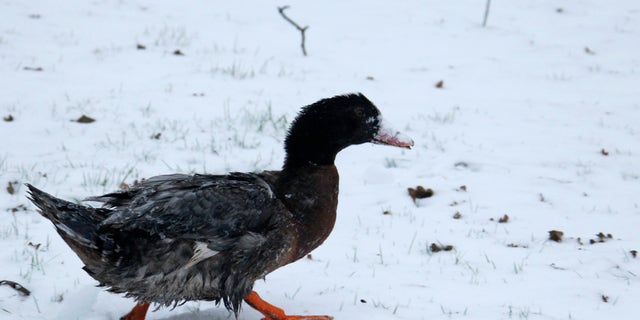 The bird flu virus found in five regions of southwest France over the past three weeks has no risk of spreading to humans, the French farm minister said on Monday, basing his statement on a study released by the food and health agency.
Two new outbreaks of bird flu were detected in the Landes and Dordogne departments on Monday, bringing the total number to 15, involving three different strains: H5N1, H5N2 and H5N9, the ministry said.
The government has already said that the H5N1 strain found in France was different from the Asian one that caused many human deaths.
An analysis by French health and food security agency Anses of the genetic composition of the H5N1 strain detected in the first outbreak showed it does not contain genetic markers which in the past have been linked to more severe outbreaks in birds and transmission to humans, Agriculture Minister Stephane Le Foll said.
"There is no risk of the H5N1 virus for human health, none whatsoever," Le Foll told reporters adding that the H5N2 and H5N9 strains have proximities close enough to make the statement valid for them too.
Le Foll also tried to reassure consumers who fear transmission through food. Outbreaks have shaken France's major foie gras producing regions, coming just before demand peaks over the year-end holiday season.
"You cannot catch flu by eating meat or foie gras. I repeat it very serenely and very clearly, consumers can go and buy these products for the holidays, it's an economic stake," he said.
Highly pathogenic H5N1 bird flu first infected humans in the late 1990s during a poultry outbreak in Hong Kong. It has since spread from Asia to Europe and Africa, causing millions of poultry infections, 844 human cases and 449 human deaths, according to World Health Organisation data.
Wild birds are thought to be carriers of the virus, which can also be tracked onto poultry farms by people or trucks that come into contact with contaminated feces.
The emergence of three different strains in such a short time is unprecedented, the head of World Organisation for Animal Health (OIE) said last week.
Over 15 countries including China and Japan -- the world's largest importer of foie gras -- imposed some kind of restrictions on French poultry products, live animals or hatching eggs after the bird flu outbreak.
Le Foll said the government was trying to convince countries banning products from the whole of France to limit restrictions to the regions hit by avian flu.