Flesh-eating parasite eats man's face, back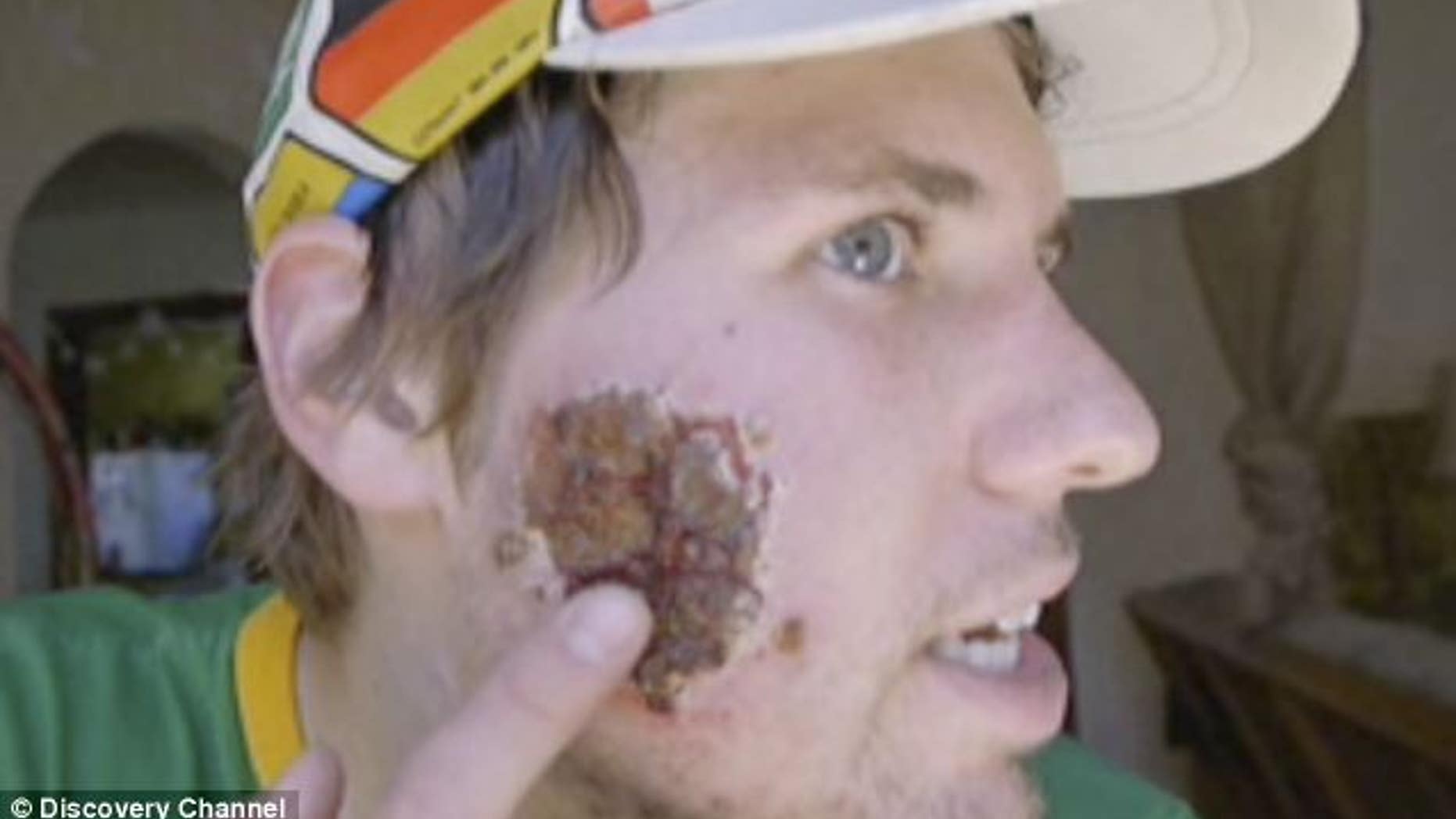 A flesh-eating parasite ate away at a man's face and back while he was vacationing in South America with his fiancé, according to the Discovery Channel.
Adam Spencer, 23, from Veneta, Ore., will be featured in an upcoming episode of Discovery's Monsters Inside Me.
Spencer had just proposed to his girlfriend Shalynn Pack when a strange scab began developing on his face as the pair crossed the Bolivian salt flats.
He dismissed the wound as nothing serious; however, over time the scab began to grow and spread across the face.  Soon pus began seeping from the sore, according to the Discovery Channel.
Spencer received antibiotics from a local doctor, and upon returning home to Oregon, he also sought out the advice of Dr. Stephan Ames of Thurston Medical Clinic in Springfield.
'"Adam came in with a wound on the right side of his face. It was firm, but soft and mushy on the inside," Ames told the Discovery Channel. "I was concerned it was a staph infection, which can infect multiple organs and could cause him to die."
Ames prescribed penicillin, but while tests found no evidence of a staph infection, the wound continued to grow.
"We didn't know when it was going to stop," Pack told the Discovery Channel. "It was encroaching his eye.  It was pretty frightening."
Spencer also began to have trouble swallowing when large white lumps began to grow in the back of his throat.  Meanwhile, the sores spread to his back.
Spencer visited Dr. William Muth of the Samaritan Infectious Disease Clinic in Corvallis, Ore., who diagnosed him with Mucocutaneous Leishmaniasis, caused by a single-cell parasite known as Leishmania.
The parasite had likely been transmitted by a small sandfly bite in the Amazon.  It was feeding off Spencer's immune cells, which were trying to fight off the disease.
Muth prescribed a 21-day treatment that finally drove out the parasite and healed the sores.  Spencer is back to planning his upcoming wedding with Pack.
The Monsters Inside Me episode featuring Spencer will air on Animal Planet in April.