Family portraits of babies disabled by Zika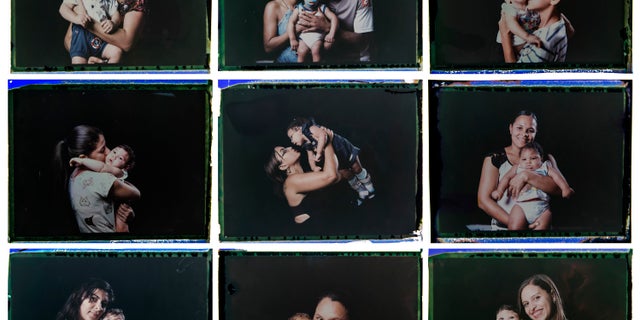 RECIFE, Brazil – For a brief moment, the mothers put aside their search for hard-to-find drugs needed to prevent their babies from having seizures, or the uncomfortable stares directed at their children, who were born with small heads because of a Zika virus infection in the womb.
Against a black cloth and looking at an instant camera, the women drew their little ones close to their cheeks and smiled . They were just like any other moms getting the first formal photographs of their babies.
Along with financial and health worries, these families also face the social stigma of raising a disabled child, which they say is even more pronounced in the poverty-stricken northeastern region of Brazil where they live.
"Some moms feel like they have to hide their children who are disabled. Not me. I am showing her to the world. What is beautiful must be seen by everyone," said Angelica Pereira, mother of 1-year-old Luiza Beatriz.
Amid doctors' appointments, physical therapy and regular tests, these mothers have hardly found the time to take portraits with their children.
Associated Press photographer Felipe Dana has followed these babies from hospitals to their cribs, from brain exams to bath time. After several interviews and assignments with the mothers, he wanted to capture their pride for their children, using instant film so they could immediately see and keep the photographs. Dana gave the women the prints but preserved the negatives, later bleaching and scanning them so they mirrored the images the mothers took home.
While being photographed, some mothers brought their child close to their chest and others raised him or her into the air while kissing the baby's nose or forehead. They relaxed as Dana made animated voices to get their babies to look at the camera.
The women seemed anxious as they stood by a table, waiting the 90 seconds needed for the instant film to develop so they could see the resulting image. Dana peeled apart the negative and put the film prints on the table. The light on the foreheads and shoulders of the mothers and babies jumped out. The women stared at the photos, reading the expressions in their children's eyes and finding some of the babies smiled.