Fake weed in Illinois leaves 3 dead, dozens with 'severe bleeding'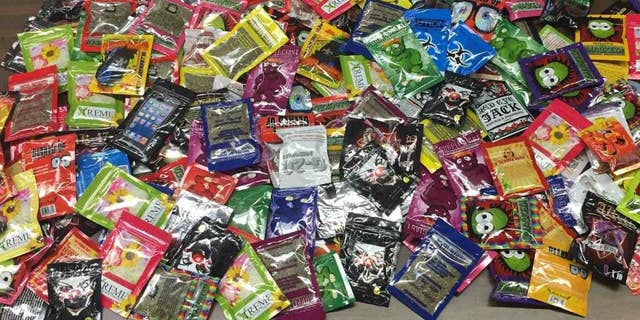 Emergency rooms in Illinois are noticing a spike in synthetic pot users suffering from "severe bleeding," and state health officials are warning the public to remain vigilant.
The Illinois Department of Health (IDPH) issued a statement on in March announcing that at least six people in northeastern Illinois had been hospitalized after using the man-made substance -- also known as "fake weed," "K2" or "spice." On Wednesday, the number of cases climbed to 118, including three deaths, the health department reported.
"All cases have required hospitalization for symptoms such as coughing up blood, blood in the urine, severe bloody nose, and/or bleeding gums," the IDPH said. "Numerous have tested positive for brodifacoum, a lethal anticoagulant often used in rat poison."
There are now cases in at least 12 Illinois communities including Chicago, Cook County, Dupage County, Fulton County, Kane County, Kankakee County, Mason County, McLean County, Peoria County, Tazewell County, Will County and Woodford county. But officials believe that number will grow, as it's possible contaminated products have been sold across the state.
"This bleeding is not expected, at least in such a significant population so quickly."
"Despite the perception that synthetic cannabinoids are safe and a legal alternative to marijuana, many are illegal and can cause severe illness," IDPH Director Nirav D. Shah said in a statement on March 27. "The recent cases of severe bleeding are evidence of the harm synthetic cannabinoids can cause."
Synthetic pot is made up of hundreds of different chemicals -- and their effect on the human body is unpredictable.
"These chemicals are called cannabinoids because they act on the same brain cell receptors as the main active ingredient in marijuana," IDPH explained, warning that the drug's impact can be life-threatening. "Synthetic cannabinoid products are unsafe. It is difficult to know what's in them or what your reaction to them will be."
Users have reported a wide range of symptoms, from bleeding gums and bloody noses to blood in the urine. Women who are menstruating have also experienced a higher than average flow. Bleeding from the eyes and ears is also possible after use, IDPH said.
The bleeding that doctors have seen in recent days has been severe.
"This bleeding is not expected, at least in such a significant population so quickly," Dr. Melissa Millewich, an emergency room physician at Advocate Good Samaritan Hospital in Downers Grove, told the Chicago Tribune.
Health officials urge those who have purchased synthetic cannabinoid products within the past month -- whether it was from a convenience store or a dealer -- to not use the product. IDPH spokeswoman Melaney Arnold told the Chicago newspaper that the product is banned for sale across the state, but some manufacturers alter the "molecular makeup of the products" to "get around" the law.
Anyone who starts experiencing symptoms, including severe bleeding or bruising, should be taken to the hospital immediately, the IDPH said.