Equine Herpes Outbreak Hits Western U.S. States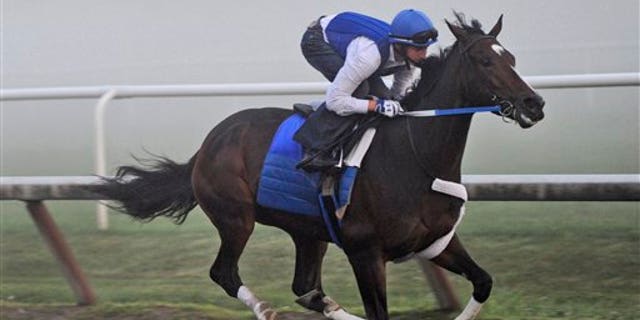 NEWYou can now listen to Fox News articles!
A outbreak of equine herpes in at least six Western U.S. states has forced the cancellation of scores of horse events, just as the prime season for riding shows, sales and rodeos is getting under way.
Cutting-horse competitions scheduled for this coming weekend in nine states have been canceled; Washington State and Colorado State universities have quarantined their veterinary teaching hospitals; and two equestrian reining and jumping clinics in Colorado have been called off.
Utah state veterinarian Bruce King said Tuesday that he is recommending "that all events involving horses, mules and burros be canceled in Utah."
"People in the horse world are freaked," said one industry insider who spoke on condition of anonymity. "If horse sales don't come off and other shows lose an entire season, it will have a huge economic impact and could destroy some people financially."
Equine herpes virus (EHV-1) is a highly contagious disease that is spread through nasal secretions by nose-to-nose contact when horses nuzzle each other, according to Colorado State University's college of veterinary medicine. It is potentially fatal to horses.
Horses cannot infect humans, but people can transmit the virus between animals through contaminated tack and clothing.
Symptoms of the virus include hind-leg weakness, decreased coordination, nasal discharge and fever. Severely infected horses that can no longer stand are euthanized.
While not requiring its members and affiliates to cancel all shows, the National Cutting Horse Association struck a cautionary tone after veterinarians traced the outbreak to the organization's national championships in Ogden, Utah, earlier this month.
"We do strongly urge all show producers to consider the possible horse health risks of conducting an event this weekend," the Fort Worth, Texas-based association said on its website.
While the numbers of infected or exposed horses is unclear, in Colorado two horses that attended the Utah event were confirmed to have the virus, and six others are displaying clinical signs of the disease, the Colorado Department of Agriculture said in a news release.
The two infected horses were euthanized.
The California Department of Food and Agriculture said 10 horses in the state were found to have the virus, and all of them attended the Utah event. One horse was euthanized after displaying severe neurological symptoms, officials said.
Other suspected cases have been reported in Arizona, Idaho, Utah, and Washington.
"Anytime you have a contagious disease that can cause death in valuable horses, it's a serious issue for breeders," Carl Heckendorf, a Colorado state veterinarian, told Reuters.
Heckendorf said some animals respond to anti-viral drugs but some do not. It is recommended that riders and handlers thoroughly wash clothing and gear after coming in contact with horses. He also urged that horses exposed to large equine gatherings be kept isolated and under observation afterward for a period of time.
Abby Yigzaw, spokeswoman for the U.S. Department of Agriculture, said the agency is compiling a database of infected animals to aid state health officials as they combat the outbreak.