Ebola unlikely to spread on planes, health agency says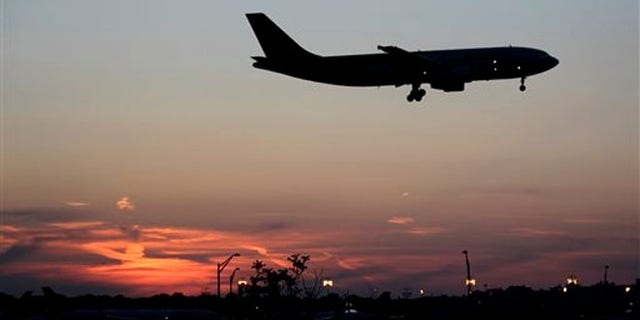 NEWYou can now listen to Fox News articles!
The chance that a person with Ebola will spread the disease on an airplane is small, according to a new statement from the World Health Organization.
That's because, unlike viruses that cause the flu or a cold, the Ebola virus cannot spread through the air, WHO said.
"The risk of transmission of Ebola virus disease during air travel is low," the statement said. "Transmission requires direct contact with blood, secretions, organs or other body fluids of infected living or dead persons or animals, all unlikely exposures for the average traveler."
In addition, people with Ebola who don't yet have symptoms are not contagious, and once symptoms develop, infected people usually feel too sick to travel, the statement said.
The current Ebola outbreak, which first caused cases in December 2013, has killed at least 1,145 of the more than 2,100 people infected to date in Guinea, Sierra Leone and Liberia, according to WHO. [5 Things You Should Know About Ebola]
The risk that a person traveling to Guinea, Sierra Leone or Liberia will become infected with Ebola, and then develop the disease after they return to their home country, is also low, according to WHO.
Most Ebola transmission happens when friends or family members take care of a person who is sick with the disease, or when people do not follow preventive measures during funeral preparations or burial ceremonies, the statement said. Health care workers who have unprotected contact with Ebola patients are also at higher risk of infection.
Countries with Ebola cases are conducting screenings at airports to check passengers for fever a symptom of the disease. Any person with symptoms of Ebola should not be allowed to travel, unless they are part of a medical evacuation, the statement said.
Currently, WHO does not recommend any ban on international travel or trade. Screening incoming passengers is also not recommended in countries that do not share a border with Ebola-affected countries, WHO said.
The Centers for Disease Control and Prevention has advised U.S. residents to avoid nonessential travel to Sierra Leone, Guinea, and Liberia.