Eating fruit in early life may decrease breast cancer risk; drinking more in midlife may increase risk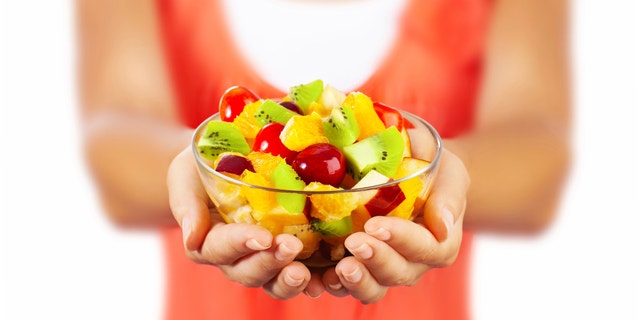 NEWYou can now listen to Fox News articles!
Consuming certain fruits and vegetables during adolescence may result in a reduced risk of breast cancer in midlife, while increasing alcohol intake later in life may increase that risk, two separate studies released this week suggest. Both studies were published in the May edition of the journal BMJ.
For the first study on fruits and veggies, researchers in the United States followed 90,000 nurses over 20 years who reported their diet in early adulthood. Half of the nurses involved also reported their typical diet throughout their adolescence.
Researchers drew a link between high fruit consumption— 2.9 versus .5 daily servings— and an about 25 percent reduced risk of breast cancer diagnosis in midlife.
Drinking fruit juice didn't appear to affect disease risk, but eating apples, bananas, grapes, oranges and kale was associated with the greatest reduction in risk, according to a news release.
Study authors argue their findings are significant because most previous studies assess intake of fruit and veggies during midlife and later, while their observations suggest a benefit of consuming produce earlier on to prevent cancer.
University of Oxford researchers wrote in an editorial that the findings suggest these foods "have well known beneficial effects on health, and efforts should continue to increase intake of both fruit and vegetables at all ages." But they pointed out that more research would be needed before scientists can absolutely determine the protective qualities of produce.
For the study that analyzed the link between alcohol consumption and breast cancer risk, Danish researchers followed about 2,000 post-menopausal women in Denmark. They found that those women who drank two more alcohol drinks a day over five years saw a 30 percent increased risk of breast cancer but a 20 percent decreased risk of coronary heart disease, compared with those who drank the same amount consistently.
Danish researchers also observed, however, that study participants who decreased their alcohol intake over the five years did not see a decreased risk of breast cancer or coronary heart disease.
"There may be some benefit with low to moderate intakes of alcohol, but this could be outweighed by an increased risk of breast cancer and other morbidities," wrote the study authors, who cautioned their findings are observational and that more research would be needed. "Furthermore, risk of ischaemic heart disease can be reduced substantially by other lifestyle changes, as well as by drugs such as statins shown to be effective in primary prevention."
According to the American Cancer Society, lifestyle choices including drinking alcohol, being overweight or obese, not exercising sufficiently, not having children and taking birth control may increase the risk of breast cancer.
Heart disease risk factors also include physical inactivity, being obese or overweight, as well as following an unhealthy diet, having high blood pressure, high blood cholesterol, having diabetes and prediabetes, and smoking.