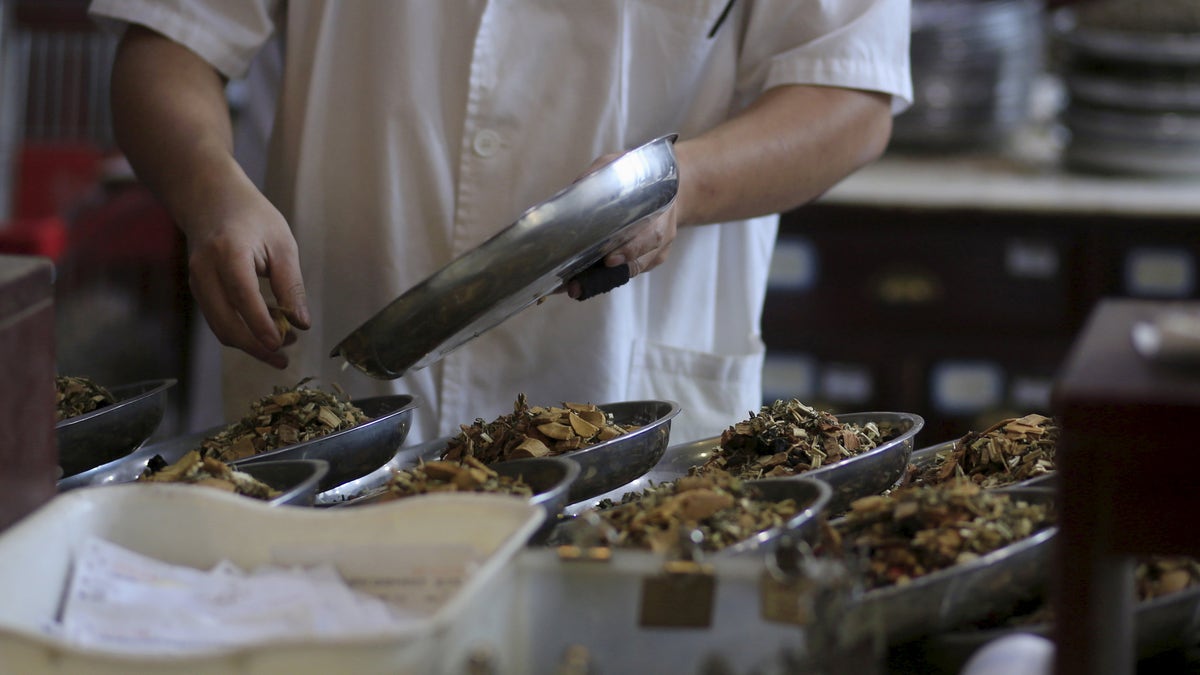 China's much-hyped market for vitamins and supplements is facing a steep challenge from traditional remedies from ginseng to deer antler, even as the sector's rise fuels billion-dollar deals and share price surges.
The vitamins market is set to expand five percent a year to $20 billion in 2019, half its pace of growth since 2009. It's being outstripped by a traditional medicine business that could be worth $40 billion by then - and is growing twice as fast.
That's prompted vitamins firms from direct seller Amway to giant U.S. drugmaker Pfizer Inc to look for inspiration from traditional medicine recipes going back thousands of years to succeed in China's increasingly pivotal healthcare market.
"We've tried to learn the heritage and marry it with modern life sciences," Jia Chen, vice president of Amway's China research and development division, told Reuters.
The firm offers products for memory and liver health drawing on traditional ingredients such as ginseng and liquorice. It recently invested around $13 million in a traditional Chinese medicine research lab in the eastern Chinese city of Wuxi.
"Half of the population still believe in traditional ways and still go to traditional doctors or hospitals. This is a way of life and is passed from generation to generation," she said.
Pfizer broke ground in June on a $95 million facility in eastern China to expand production of its Centrum and Caltrate brands. It's now offering golden-hued gift boxes of vitamins, playing into the trend of giving expensive traditional Chinese medicines as presents.
Traditional remedies are used in China to treat everything from low energy to cancer, making for a business that's broader than Western-style vitamins and health supplements. The industry's ancient roots, along with rising disposable incomes, greater health awareness and supportive government policies, have helped stoke the market further.
It's a potentially lucrative model too, with shoppers willing to splash out for natural ingredients boiled together to create a curative brew. One Shanghai shopper said she had bought a three-month skin treatment for 6,000 yuan ($942).
Leaders of the market for these remedies, like Beijing Tongrentang Co Ltd, have products with snakeskin, dried toad, centipede, scorpion and dandelion to treat swelling, and others with oyster, ginseng and black-bone chicken for menstrual pains.
"At the moment the real money-spinners are deer antler and ginseng," said Yu Qiangmin, 51, a chemist in a traditional medicine store in Shanghai.
HEALTHY MIX?
Some vitamins suppliers say demand from safety-conscious consumers for high-quality imports is robust enough to fuel market growth. Hong Kong-listed Biostime International Holdings announced a billion-dollar deal last week for Australian vitamin maker Swisse Wellness to build on strong Chinese demand.
"Chinese consumers are prepared to pay a premium for our products because they know that those products are quality-checked before they're sent out to China," Christine Holgate, Chief Executive Officer of Australia's Blackmores Ltd, told Reuters in an interview.
Blackmores has seen its shares nearly quadruple in value this year, accelerating after an 83 percent spike in annual profit helped by booming demand in China. The firm has hired Chinese tennis star Li Na to promote its pregnancy supplements and help boost local demand. (bit.ly/1XJTnj9)
Vitamin makers are also looking to lure younger, urban Chinese consumers who are less convinced by traditional methods and willing to mix the old with the new.
Wen Zuolin, 21, a food safety student in Shanghai, has swapped indigo woad root for vitamin tablets which she says are more convenient, taste better - and she knows what's in them. She admits she goes back to traditional cures from time to time.
"Older generations trust traditional Chinese medicines more. Some of us youngsters still trust it too, but the majority prefer Western-style medicines because they have a quicker effect," she said.
In Shanghai, 82-year-old Li Dongmei wasn't yet convinced as she scoured cluttered shelves and old wooden drawers in a downtown medicine shop.
"I'm not sure about how effective it is, but I still take traditional Chinese medicines every day," she said, laden with a haul of two heavy bags of products which can cost hundreds of dollars for a few months' treatment.
"Vitamins, I don't really trust yet."
($1 = 6.3694 Chinese yuan renminbi)
($1 = 1.3904 Australian dollars)