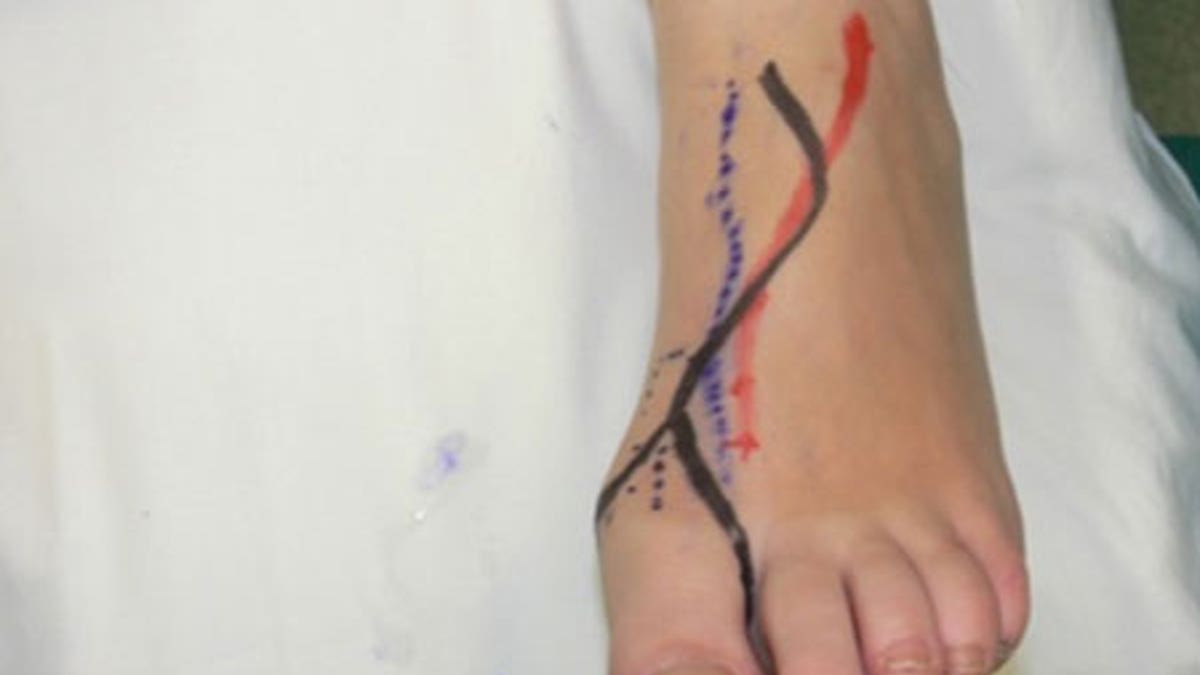 Shannon Elliott's life was changed in an instant last November when she was hit by an exploding M-80 firecracker that was thrown from a moving car. As a result, she lost a thumb and two fingers on her left hand, but a lot has changed in the months since that accident thanks to a very unique and rare surgery.
On June 7, surgeons at Stony Brook University Medical Center on Long Island, N.Y., amputated her big toe on her left foot and replaced her missing thumb. The 25-year-old from East Moriches, N.Y., said when doctors approached her about the procedure — she didn't hesitate.
"I would rather lose a toe, and gain a whole hand," she told PIX 11 News, two weeks after undergoing the surgery.
SLIDESHOW: Toe-to-thumb transplant. (Warning graphic)
Dr. Jason Ganz, an assistant professor of plastic surgery and hand surgery at Stony Brook, spent months mapping out how he was going to perform the delicate procedure.
"When I saw her in November, her hand was still freshly injured," he told FoxNews.com. "It was very swollen and she still had wounds that needed to heal, so she wasn't ready for reconstruction at that point. But I knew right away this was the surgery that she would need."
The surgery he's talking about is called a toe-to-thumb transplant. And while Ganz had never performed one before, he was confident he was up to the challenge.
"I've done a lot of replant surgery where we reattach severed fingers," he said. "The techniques involved are very similar. In a lot of ways it's the ideal finger replant but in this case we're using a toe instead of a damaged finger."
Ganz said when you do an operation like this – it's imperative that the hand is completely healed, the scar tissue is softened and the swelling has come down.
"So it took several months of waiting for that to happen and several months of planning on our part," he said.
And it didn't just take time for Ganz and his team to prepare for the surgery – Elliott also needed some time to accept what she was going to have to endure.
"It's a big step to take and a tough pill to swallow to risk a perfectly good toe to reconstruct a thumb even though it was really the operation for her," Ganz said. "But the truth is — she (Elliott) has been very accepting and open-minded from the get go. She said she wanted her hand back."
In order to achieve that, Ganz and a team of surgeons, anesthesiologists and nurses had to work for 11 hours in the operating room.
"We actually worked simultaneously," he said. "One of us was working on the hand while another surgeon was working on the foot and we would communicate the entire operation about exactly how long an artery we needed, which tendons were present and which ones we needed to preserve. And you're counting on the thumb being alive based on that one artery that you fixed. The techniques really need to be impeccable."
And they were. When the surgery was completed, the results were exactly what they were hoping for.
"We were thrilled," Ganz said "When we took the clamps off everything and let the blood flow – and the toe went from pale to bright pink — there was applause in the room. It was such a great feeling."
Elliott will need extensive rehab, but it won't be to learn how to use her thumb again.
"That's still wired in her brain," Ganz pointed out. "Basically what she'll go to therapy for is to make sure she does things gradually so all the repairs that we've done will stay intact. As she makes a steady progress she should regain the vast majority of her hand function back."
Even though Elliott has gained a new thumb, there is one small thing she will miss.
"Wearing flip flops," Ganz said. "But to gain a thumb out of that is really how she looks at it — so it's a small price to pay."