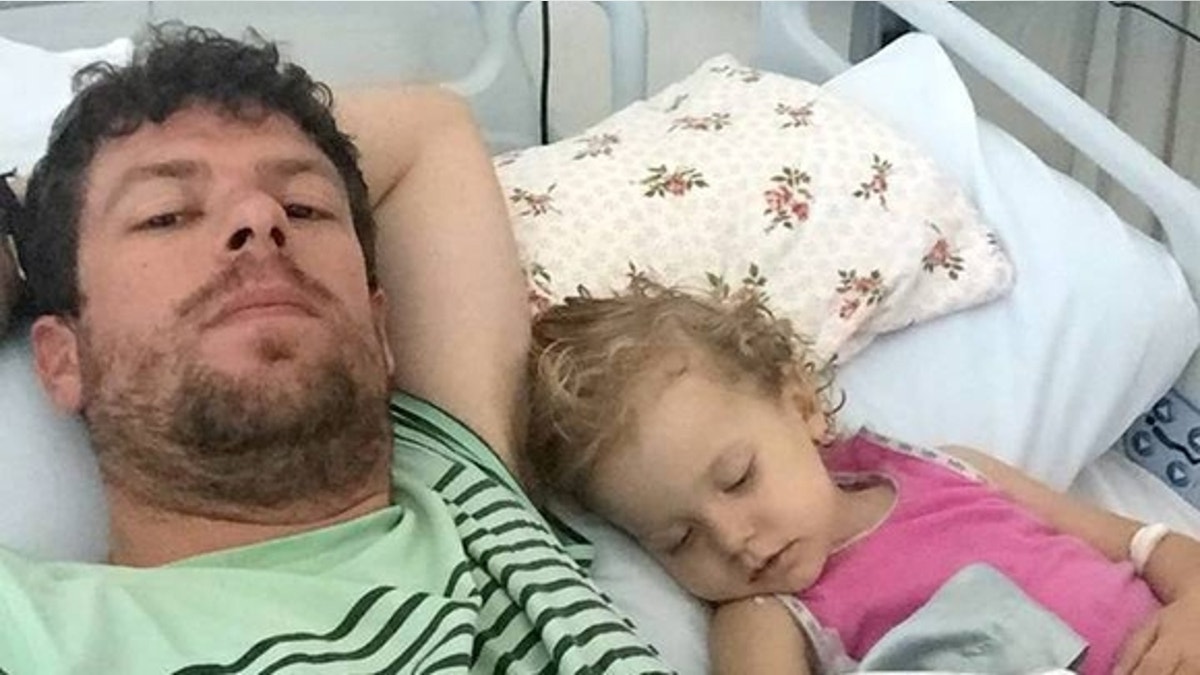 CABERRA, Australia – The case of an Australian father who is facing prison for allegedly giving his cancer-stricken 2-year-old daughter cannabis to relieve her pain has triggered a groundswell of momentum for a campaign to legalize marijuana for medical purposes in the country.
The 30-year-old father, who cannot be named under Australian law, was arrested outside his daughter's hospital in Brisbane on Jan. 2 for allegedly putting cannabis oil in her food. He was charged with supplying a dangerous drug to a minor and faces up to 25 years in prison if convicted.
An online petition calling on the Queensland state Premier Campbell Newman to intervene on the father's behalf had more than 155,000 supporters on Thursday.
Sen. Richard Di Natale, health spokesman for the minor Greens Party, a leading advocate for legal medical marijuana and a former doctor, said the case is helping turn Australians against a blanket ban on marijuana.
"I've been surprised that the issue (medical marijuana) within the Australian community is as big an issue as it clearly is," Di Natale said Thursday.
At the father's first court appearance, a magistrate released him on bail but barred him from any contact with his daughter, who was recently diagnosed with advanced neuroblastoma, a type of cancer that is almost exclusive to babies and children.
The court relaxed the father's bail conditions last week, allowing him to visit his daughter in the hospital under medical supervision. He is to return to court on Feb. 23. He has yet to enter a plea.
A small crowd of medical cannabis advocates held a rally outside last week's court session. A small group of mothers of terminally ill children held a similar demonstration this week outside the state health department.
"As a mom, all I want is quality of life for my child because the drugs have just done nothing for him," said demonstrator Rozanne Burley, whose teenage son has a form of intractable epilepsy called Dravet's syndrome.
Premier Newman, a conservative, has said he is sympathetic to the idea of medicinal marijuana, but any decision should be based on information from federal health authorities. Medical authorities have questioned the medicinal benefits.
The conservative government of Australia's most populous state, New South Wales, announced last month that medicinal cannabis will be trialed in treating children with severe epilepsy, terminally ill adults and patients who suffer nausea and vomiting as a result of chemotherapy.
The center-left government of the next most populous state, Victoria, also announced in December it hopes to become the first state in Australia to legalize medical marijuana by the end of 2015. No Australian state leader has opposed such a move.
Prime Minister Tony Abbott, a conservative, has opened the door to a federal law allowing cannabis to be used for medical purposes throughout Australia.
"I have no problem with the medical use of cannabis, just as I have no problem with the medical use of opiates," Abbott wrote in a letter to Sydney broadcaster and influential conservative commentator Alan Jones last August.
Di Natale introduced legislation in Parliament in November that would create an independent regulator responsible for licensing the growing, manufacture and distribution of medicinal cannabis. Individual states could opt out of any form of legal marijuana.
While legislation proposed by a party outside government usually fails in Australia's political system, Di Natale's bill has the backing of the multiparty Parliamentary Group for Drug Policy and Law Reform.
Di Natale said the medical marijuana cause has gained momentum because of an extraordinary consensus among political leaders on the issue, with conservative support particularly critical.
"It has happened quickly, but it's happened because there has been a little bit of leadership shown," Di Natale said.
The charged father did not immediately reply to an emailed request for comment Thursday.