Conjoined 13-month-old twin girls successfully separated, hospital says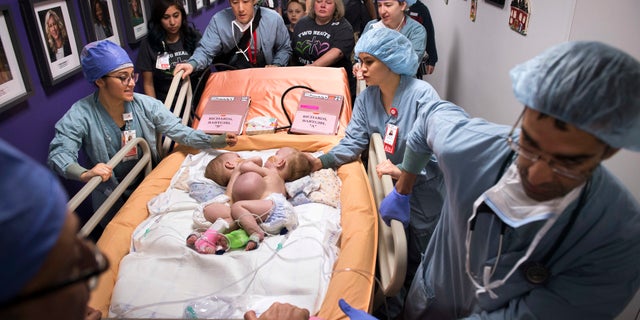 NEWYou can now listen to Fox News articles!
A Texas hospital announced the successful operation separating twin baby girls who were conjoined at the chest and abdomen and shared multiple organs.
Anna and Hope Richards, the 13-month-old twins, underwent the surgery on Jan. 13 at Texas Children's Hospital and were in good condition on Tuesday, hospital spokeswoman Lindsey Fox told The Associated Press.
GRAPHIC IMAGE WARNING: DOCTORS FIND 26-POUND TUMOR INSIDE PREGNANT-LOOKING PATIENT'S STOMACH
The surgery "went very well" and was as successful as the team "could've planned for," Dr. Oluyinka Olutoye, a pediatric surgeon and co-director of the Texas Children's Fetal Center, said in a video on the hospital's Facebook page. He added that they "were blessed that this was the best-case scenario."
The 7-hour-long procedure last month required about 75 medical professionals with various specialties and several months of planning, the video said. This was the hospital's fourth time performing this type of operation.
The girls shared a liver, diaphragm and pericardial sac, and their hearts were connected by a large blood vessel, the video said. Both are expected to have more operations in the future but doctors said they should be able to live normal lives.
OREGON WOMAN HAS 14 WORMS PULLED FROM EYE AFTER RARE INFECTION
The Richards family, of north Texas, first found out about the girl's condition in a routine ultrasound during their mom's pregnancy, officials said. Born in December 2016 as preemies at just 35 weeks, the girls weighed a combined 9 pounds, 12 ounces.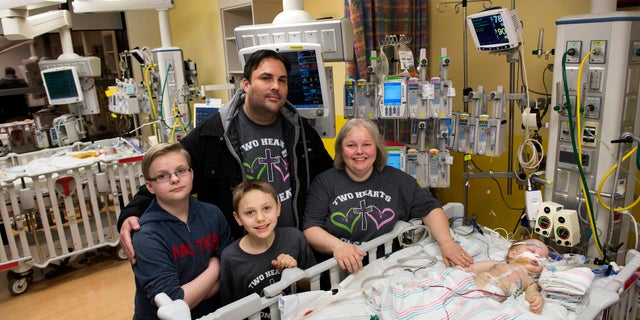 "We've thought about and prayed for this day for almost two years," the girl's mother, Jill, told KHOU 11. "It's an indescribable feeling to look at our girls in two separate beds. We couldn't be more thankful to the entire team at Texas Children's for making this dream come true."
The Associated Press contributed to this report.