Colorado mom warns of 'choking game' after 11-year-old son dies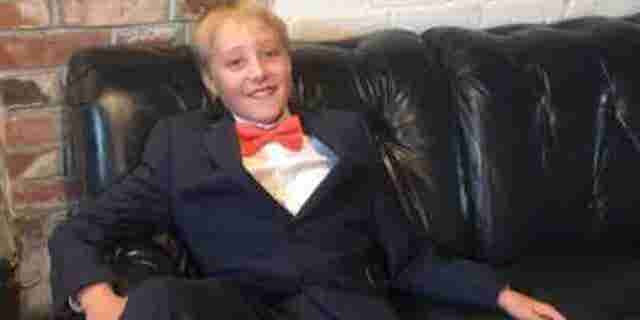 A Colorado mother is urging parents to carefully monitor their child's Internet use after her 11-year-old son died while participating in the "choking game." Tia Bodkins, of Elizabeth, Colo., said her son Carson went upstairs to pack for a family trip and was discovered unresponsive 10 minutes later, according to Fox 31.
Bodkins attempted CPR while waiting for paramedics, but he was pronounced dead at Children's Hospital on Oct. 12.
MAN WHO LOST LOWER HALF OF BODY IN DRUNK DRIVING CRASH STILL RECOVERING 2 YEARS LATER
"We're living minute by minute right now, we're all very sad," Bodkins told Fox 31. "We miss him very much, we're just trying to lift each other up."
According to the report, children playing the choking game may complain of frequent headaches or appear with bloodshot eyes.
"As parents, the responsibility lies on us to go in and make sure [kids] are protected, and sometimes that might be an invasion of their privacy," Jason Davis, Carson's stepfather, told the news outlet.
Bodkins said the family has set up Internet blocks for her kids but had allowed Carson to surf the web for skateboarding tricks.
Other parents have issued similar warnings after witnessing their own child suffer severe injuries from crazes such as the "fire challenge." That one left a 12-year-old in Michigan with severe burns on 49 percent of her body after she became engulfed in flames over the summer.
CONNECTICUT REPORTS FIRST FLU DEATH OF SEASON
"These kids are trying these YouTube challenges," Brandi Owens, the preteen's mother, told Fox 2 at the time. "Monitor these kids, especially with these phones, and if I could, after this happening, my kids would never be able to be on social media — no more iPhones, nothing."
Carson's principal said the school is providing counseling for students and teachers and helping to spread information about online safety. The family is planning to donate to the town in Carson's name.
"It's heartbreaking to lose a student so young and it really hits home as the parent of a 5th grader myself," Kurt Naber told Fox 31. "This is probably more widespread than most parents and most schools would assume."