Colorado boy, 4, battling cancer named honorary police officer: 'It has answered our prayers'
The Colorado Springs Police Department has a new member: Joshua Salmoiraghi, a 4-year-old boy battling cancer.
On Tuesday, Joshua was "sworn in" to the department in full uniform, the police department announced.
The day was full of doughnuts and fun for Joshua, who was first diagnosed with stage four kidney cancer over Father's Day weekend in June 2017. He was 3-years-old at the time. The city's fire department also came, allowing the boy to sit in a fire truck and spray the fire hose.
"People who don't know him are here for him, that's a huge blessing," Joshua's father, Joseph, told Fox News on Wednesday. "He doesn't fully understand everything that's going on, but he's having the time of his life right now."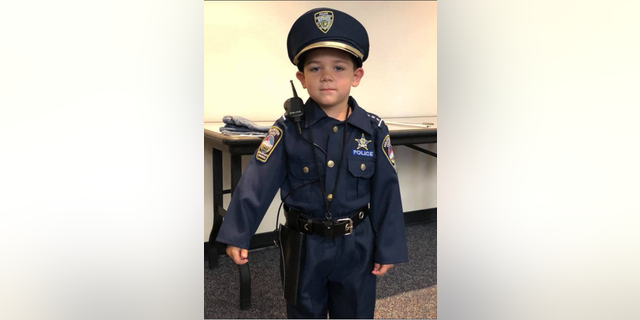 After undergoing surgery to remove an 11-centimeter tumor from his left kidney, the young boy went through radiation and chemotherapy treatment. By December of last year, doctors determined Joshua to be in remission.
But that changed in January after the 4-year-old's doctors found another tumor in his left lung.

While the tumor was removed, Joshua will start a new six-month round of chemotherapy on Thursday at Aurora Children's Hospital. This time, "it is going to be much more harsh, much more aggressive," Joseph, a military veteran and pastor, said.
"It will be a trying time for all involved," the police department added, referring to Joshua's family, which includes his mother, Amanda, a major in the U.S. Air Force, and the 4-year-old's two older brothers, Benjamin and Timothy — ages 10 and 7, respectively.

The family recently moved to Colorado Springs from Los Angeles because Amanda was re-stationed. While the family had to leave a "tight-knit" community behind, Joseph said they have found an outpouring of support in their new home.
"This was a wonderful welcome for us and kind of helped ease our fears about moving right before Joshua started treatment again," Amanda told Fox News, adding that she is "grateful to all the people who have gone out of their way to give Joshua special memories before he has to endure another round of treatment."
It was Colorado Springs Police Officer Warren Listul who first heard Joshua's story; the officer and Joseph were recently chatting outside of a local Wingstop, and Listful was so moved he helped organize Tuesday's event for the boy.
"Since [my wife] also has stage four [cancer], it struck a nerve with me, very personal," Listul told Fox21.
"I [initially] asked if [Joshua] could ride around in the police car for the day, but it turned into so much more than that," said Joseph, who added that the police department's kind gesture had been a "shock."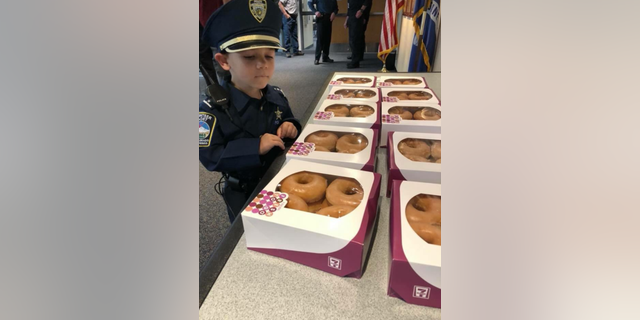 Members of the police department also chipped in to purchase a battery-powered motorcycle for Joshua. They plan on outfitting the bike with official Colorado Springs Police Department decals and Joshua's name.
"[As parents] the hardest part of making the decision [to continue treatment] is that it's going to hurt him and cause him suffering and pain," Joseph said. "But we have to put emotions aside because it's what's needed and necessary."
As for the family's response to the support they've received, Joseph said "we cry -- it has answered our prayers."