Color, size and smoking affect tattoo removal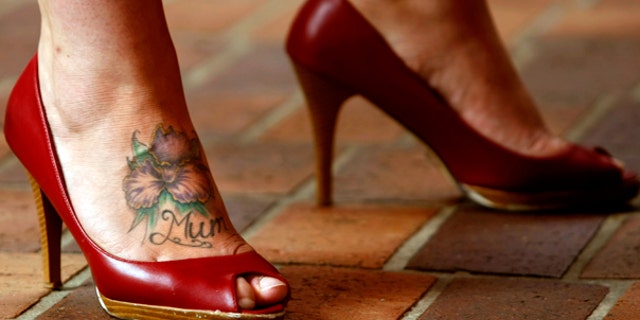 As growing numbers of people rue the tattoos they got in their youth, a new study has found that tattoo removal is less likely to succeed if the person is a smoker, the design contains colors such as blue or yellow and is larger than 12 inches.
The study is believed to be the first research that looked at several factors—which included tattoo size and location on the body—involved with successful tattoo removal, according to the researchers.
The standard procedure for removing tattoos currently is treatment with a laser called a Q-switched laser, or QSL, applied over a number of sessions. But the technique can lose its effectiveness depending on certain variables, according to the study, published online on Monday in the American Medical Association's Archives of Dermatology.
Smoking, for instance, can reduce by 70 percent the chance of successfully removing a tattoo after 10 treatment sessions.
Dermatologists have long known certain colors are easier to remove than others, but the findings on the impact of smoking on tattoo removal are new.
The research was conducted at a laser-surgery center in Milan, Italy, from 1995 through 2010. There were 352 people in the study, of which 201 were men, with a median age of 30 years old.
As many as 22 percent of U.S. college students have at least one tattoo, according to background information in the study, and about half of people who get tattoos later try to have them removed.
In order to remove tattoos, patients must undergo about 10 laser treatments several weeks apart. The light from the laser targets pigments in the ink of the tattoo and helps the ink break down. Over time the ink is removed through the body's lymphatic system. Each treatment costs about $200 and isn't covered by insurance.
Overall, the study found about 47 percent of people had their tattoos successfully removed after 10 laser treatments and it took 15 treatments to remove tattoos from 75 percent of patients.
Black and red pigments in tattoos were most easily removed. All-black tattoos had a 58 percent successful-removal rate, while tattoos with black and red pigments had a 51 percent success rate after 10 treatments. The presence of other colors such as greens, yellows or blues reduced the chances of effective removal of a tattoo by as much as 80 percent, the study found. Other factors that reduced the procedure's success included a design larger than 12 inches or one located on the feet or legs.