Certain factors increase magnitude of head impact in HS football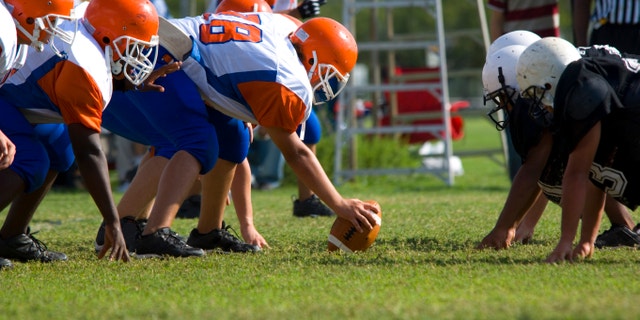 NEWYou can now listen to Fox News articles!
In high school football, head impacts are more severe in the second quarter of the game, when caused by contact with another player and after longer closing distances, according to a new U.S. study.
The researchers say rule changes to minimize these situations should be considered to reduce the number and severity of head impacts.
"Impacts to the head that resulted from contact with another player were of higher magnitude than contact with other surfaces, such as the ground," said lead author Julianne D. Schmidt of the University of Georgia in Athens.
"We also found that running a long distance before colliding with an opponent resulted in higher magnitude head impacts compared to running a short distance, especially when players started in a 3-point stance or were being struck," she told Reuters Health.
For 13 games, 32 high school football players wore helmets fitted with telemetry instruments to record and analyze head impacts. Combining that data with game film, the researchers assessed nearly 3,900 head impacts among the players.
"Previous studies suggest that an individual's risk of injury may increase as he or she continues to participate in a single game," but this study found higher risk at the end of the first half, Schmidt said.
Halftime might have some restorative effect and help players reduce fatigue, she speculated.
"Our results suggest that, if this is true among high school football players, an increased injury risk does not result from increases in head impact magnitude as the game progresses."
The researchers also found that when the head was struck twice, the first impact tended to be worse. Offensive linemen not snapping the ball had worse head impacts than those who were snapping the ball, the study in Pediatrics July 18 found.
"This type of information is interesting however there is limited correlation between force of head impact and concussion," cautioned Dr. Kimberly G. Harmon, Head Football Physician at the University of Washington in Seattle and past president of the American Medical Society for Sports Medicine. "This study was too small to examine the relationship of these impacts to concussion," Harmon, who was not part of the new study, told Reuters Health by email.
In general, reducing the magnitude of head impacts sustained while playing football is a good thing, Schmidt said.
Decreasing head to head contact and decreasing opportunities for large closing distances may decrease the force of hits, and officials have recently made changes regarding where the ball is kicked from during kick offs to address these concerns, Harmon said.
"Teaching kids to keep their head out of tackling and enforcement of current rules on targeting and head to head contact are supported by this study," she said.
It may also reduce impact magnitude to take care not to combine the three point stance with running a long distance before a hit, Schmidt said.
"Starting with your trunk down in a position similar to a track start gives you more momentum going into a collision," she said. "High school football players that start in a 3-point stance do not typically run a long distance before collision, but some position types like tight ends and defensive ends might be more likely to combine the two."