CDC reports 1 dead in E. coli outbreak tied to romaine lettuce
Health officials reported the first death linked to a multi-state E. coli outbreak that's been pinned to romaine lettuce grown in Arizona.
Federal officials said the death was reported in California, according to The Orange County Register.
The latest numbers from the Centers for Disease Control and Prevention (CDC) tallied 121 illnesses across 25 states, with 52 hospitalizations that include 14 cases of kidney failure.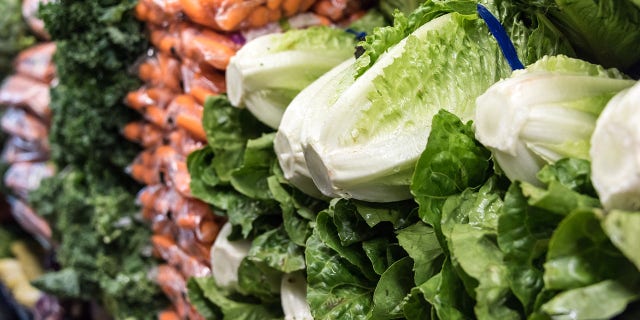 The agency's update indicated an uptick of 23 additional illnesses since April 27, and now includes cases in Kentucky, Massachusetts and Utah.
The agency did not release any additional information about the fatality, directing questions to the California Department of Public Health.
111 STUDENTS FALL ILL AFTER ATTENDING PROM AT CHICAGO AQUARIUM
The CDC continues to warn against purchasing or consuming romaine lettuce from the Yuma, Ariz., region, and said restaurants and retailers should not serve or sell lettuce from the area.
The warning applies to salad mixes, whole heads, hearts of romaine, chopped romaine, baby romaine and organic romaine.
While most people recover from an E. coli infection within a week, severe infections can result in hemolytic uremic syndrome and require hospitalization.
Symptoms of E. coli can present as diarrhea, severe stomach cramps and vomiting. The outbreak, which began in late March, has not been pinned to a specific grower or distributor.