Brazilian bodybuilder almost lost arms after injecting oil and painkiller cocktail into muscles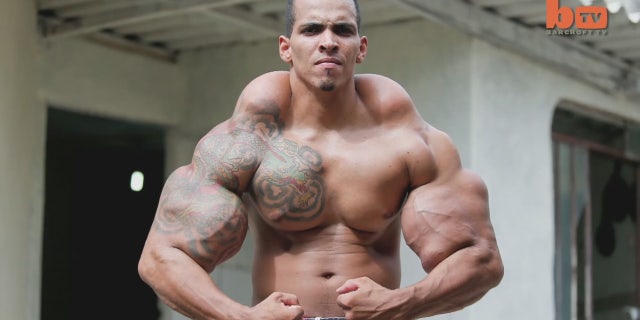 A bodybuilder's desire to become the human Incredible Hulk by injecting oil into his arms almost cost him his life.
Just three years ago, Romario Dos Santos Alves, 25, was your average bodybuilder in Goiania, Brazil. Going to the gym, he noticed some of the guys building a lot muscle at a fast rate and he befriended them to get some tips.
"They introduced me to synthol and I got excited about the results – I lost control," he told Getty in a video interview, according to news.com.au.
The synthol was a cocktail of oil, painkillers and alcohol that Alves would pump into his biceps with astounding results. He had supersized muscles like The Hulk, but like any drug, Alves became addicted.
"If you take it once there will definitely be a second time – it's addictive," he said, adding that he even tricked his wife into injecting him with oil in places that he could not reach. "I told her there was no problem with it – that it left the body after a short time."
But it didn't and Alves' health started to crumble.
His biceps had swollen to an incredible 25 inches while the cocktail started causing him constant pain and kidney failure because of the toxins. He went through depression and even tried to kill himself at one point.
His wife threatened to leave him if he continued using synthol.
"I remember the doctor told me that they would need to amputate both arms. They said everything in there, all my muscles, were rock," he told The Mirror. "It was either that or cut all of my muscles out."
Luckily, doctors were able to remove the synthol rocks from his arms and did not amputate.
"I decided to fix my ways and I never again wanted to take any drugs, we went through a really hard time and almost starved," Alves said.
He has been substance free for about two years now, but the temptation to use other muscle enhancing drugs is still there.
"Two weeks ago I bought a substance called estigor – a horse hormone," he said. "I put the needle in my chest and sucked in air to see if I got a vein but nothing came out. I froze and started to sweat. My mind started remembering things that I've gone through and I thought that I couldn't do it – I couldn't give in to temptation again."
Alves said he is speaking out about his experiences so that other people don't fall into the same addictive trap. He still has ambitions to become a professional bodybuilder, but wants to remain clean of drugs.
"I regret it a lot – my ambition is still to become a bodybuilder but I've got a long way to go. I know I will achieve it though," he said. "I want other people to see the dangers; I could have died all because I wanted bigger muscles. It's just not worth it."
Like us on Facebook
Follow us on Twitter & Instagram