Boy's lemonade stand raises funds for grandpa's cancer battle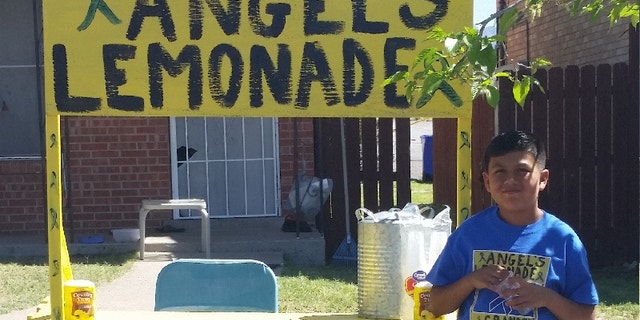 A 9-year-old boy won't be spending his spring break playing video games or sleeping in late, as he's determined to sell enough lemonade to help his ailing grandfather pay his medical bills. Angel Reyes, of Las Cruces, New Mexico, hatched the plan over Christmas with his mom, 11 Alive reported.
"I wanted to make money for him, $100, maybe $120, selling lemonade and popsicles," Reyes told the news outlet.
Reyes' grandfather, 52-year-old Richard Sanchez, was diagnosed with stage 3 colon cancer in December and recently underwent surgery to remove a 9-inch tumor. The procedure has left the self-employed construction worker unemployed with mounting bills, 11 Alive reported.
"He is a very macho guy, but he's scared," Chasity Sanchez, Reyes' mother, said of her father. "The scary part for him is that he lost his sister 11 years ago to the same cancer."
Reyes' constructed a lemonade stand with the help of his uncle, and hung signs with hand-painted cancer ribbons. He sells cups of lemonade and ice pops for .50 cents each, and has even enlisted the help of a few friends, the news outlet reported.
"We sent pictures of the stand to my dad," Sanchez told 11 Alive. "He got emotional when he saw them."
News of the stand spread online prompting people to donate on a GoFundMe page, or take a ride to see Reyes in action.
"We raised $48 the first two days, and have done pretty good today," Sanchez told 11 Alive on Wednesday.
Reyes' said he wants to do anything he can to help his grandpa.
"I care a lot about my grandpa," he told 11 Alive. "I want to do anything I can to help him. People have been really nice about wanting to help, too. I'll keep doing this as long as I can, if it will help him."