Boy's concussion symptoms lead to tumor diagnosis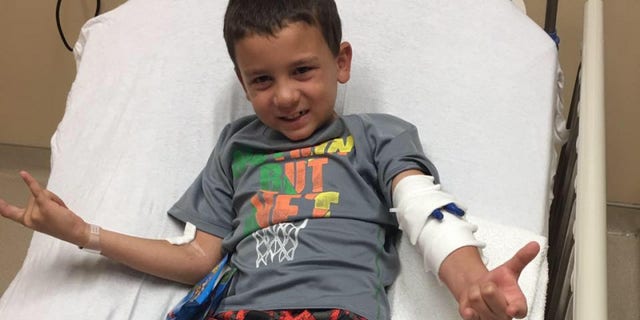 Friends and family have rallied around a 7-year-old Florida boy who sought treatment for a concussion, only to be diagnosed with an aggressive brain tumor. Logan Silva, who was injured about three months ago while playing soccer, had been complaining of intense headaches and vomiting due to pain in the lead up to his diagnosis earlier this month, Fox 30 reported.
He has since undergone two surgeries to relieve pressure and remove the tumor, totaling about nine hours under the knife, the news outlet reported. The cancer was determined to be medulloblastoma, and Logan now faces six weeks of radiation and up to eight months of chemotherapy.
9-YEAR-OLD GIVEN MONTH TO LIVE WISHES FOR CHRISTMAS CARDS TO CELEBRATE FAVORITE HOLIDAY
"It is grade 4 cancer, which means it's very aggressive," Daniel Silva, the boy's father, told Fox 30. "He's having to retrain his body to walk, to talk, pretty much every little motion."
A GoFundMe page started on behalf of the family has raised more than $17,000, surpassing the initial $10,000 goal. Friends have also taken to social media to use the hashtag "#LoganStrong" to show their support.