Boy, 2, suffers severe burns at beach after stepping on remains of bonfire buried in sand, mom says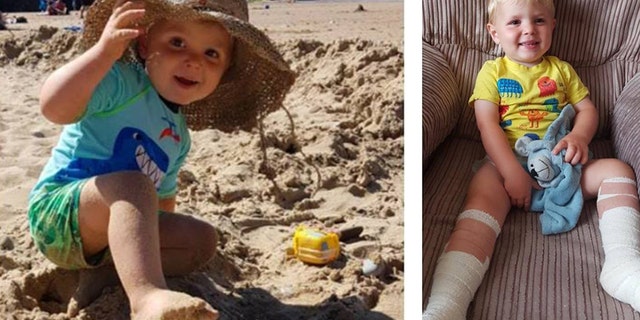 A young boy in Wales was severely burned Saturday when he stepped on the remains of a beach bonfire that was buried underneath sand, his mother wrote online.
Laura Ashford said she took her son, two-year-old Harri, to Caswell Bay beach in Swansea "to enjoy the sea, sand and sunshine."
Harri, according to Ashford's Facebook post, was playing with the sand for roughly an hour, when he "suddenly started screaming."
The child "had stepped on the remainder of a bbq/bonfire which had been buried in the sand and covered with stones," which Ashford said resulted in "serious burns to his right foot and some additional blisters on his left."
Ashford wrote that Harri "was incredibly brave" as doctors treated his burns, and said it likely would take four to six weeks for him to recover.
MOM RECOVERING FROM SEVERE BURNS AFTER FIRE THAT KILLED 5 CHILDREN
Ashford said she had a message for whoever didn't discard the heated coals properly.
"I have no words to express how lazy and stupid your decision was and the consequences this has now had for Harri - I hope you are ashamed," the mother wrote online.
COLORADO WILDLIFE OFFICIALS RESCUE BEAR CUB FROM WILDFIRE, TREAT SEVERELY BURNT PAWS
Beachgoers are urged to properly douse any bonfire or barbeque-related fires or coals before leaving the beach. The U.S. National Park Service advises to put out the fire "completely with water. Douse the fire with water, stir the coals, douse with water again."
People should repeat this process until the coals are no longer hot, to the point that they "should be cold enough to handle with your bare hands."
Additionally, beachgoers should not bury coals in the sand "as it will only insulate any residual heat and be an unseen danger to wildlife and barefoot visitors."