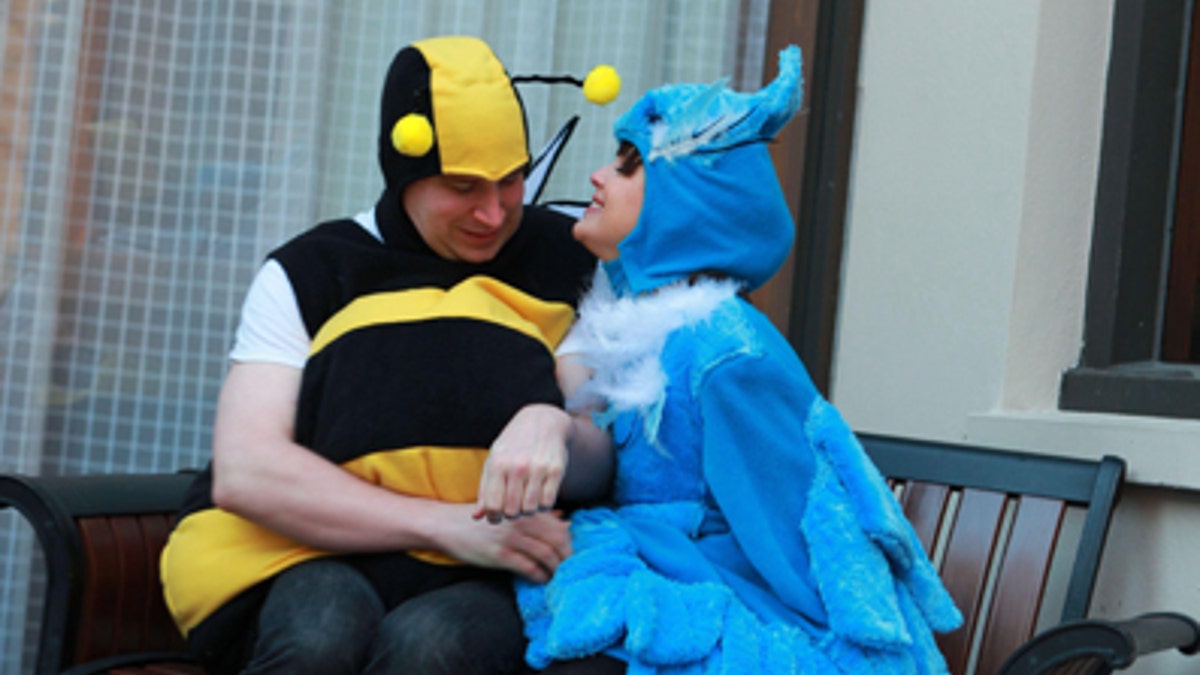 Infertility is not usually a topic that is discussed publicly, but a new campaign is hoping to change that by erasing the stigma attached to it.
EMD Serono, a biopharmaceutical company, has produced a campaign on Facebook titled "Birds and the Bees: The Real Story."
Part of the campaign features a music video, "Early Bird Catches the Sperm," reminiscent of a digital short on "Saturday Night Live."
Click here to 'like' Birds and the Bees on Facebook and to watch the video.
"There's a lot of stigma to infertility, and part of what this video does so well, is it takes a very difficult topic that many of us don't want to talk about and gives us a way to talk about it," said Barbara Collura, executive director of RESOLVE, the National Infertility Association, which supports EMD Serono's campaign.
The video stars Karen and Neil, dressed as a bird and a bee, respectively. They talk about their difficulties in conceiving, from both genders' point of view:
Bee:
Oh you know in the mornin'
It starts right when I open my eyes
She's got a window and we have to try
But this ain't romance – it's an exercise every time, every time
Bird:
We're having issues here
My OB and I are getting concerned
I want a baby right now, it's my turn
The early bird catches the sperm – that's what I hear
Collura said the video is not only for couples who are experiencing infertility, but for anyone who is thinking about conceiving in the near or late future.
"There are some key messages in the video, which are repeated a few times, regarding when you should see a specialist and how old you should be," Collura said.
Dr. Alan Copperman, director of reproductive endocrinology and infertility at Mount Sinai Medical Center in New York City, has seen the video and also supports its message.
"I'm excited about it, and it's created a lot of buzz – no pun intended," he said. "We've been talking about infertility for years, but we've never used social media to create awareness before."
According to the American Society of Reproductive Medicine:
• 1 in 8 couples have fertility issues – that's more than 7.3 million people in the United States
• There is a 50/50 chance the fertility problem lies with either the man or the woman. It's a common misconception that the problem always lie with the woman
• At the age of 30, a woman has a 20 percent chance per month of conceiving. At the age of 40, her chances drop to 5 percent per month
• Eighty-five to 90 percent of infertility cases are treated with conventional therapies, such as drugs or surgery. IVF and similar treatments only account for less than three percent of infertility services
• After one year of regular, unprotected sex, if a couple has still not conceived, they should seek medical attention. If the woman is over the age of 35, and the couple has been trying for six months, then they should seek medical attention.
Copperman said he applauds the video for using humor to tell its message. He said it's common to see the issue on the front of magazine covers, but uncommon to hear people talking to each other about it.
"Success rates are really high, and the likelihood of taking home a healthy baby is greater than ever," he said. "We have to continue to work on people knowing that they have to get in to see a specialist."
Copperman said many people drop out of infertility treatments, which does not always include in vitro fertilization, before they even complete it.
"And they could get pregnant," he added.
"Treatments can be very basic, and women don't need to worry that they'll end up having multiple babies. And with the increasing of age, egg freezing is becoming very popular. We're seeing a lot of breakthroughs."