Beyonce 'Lemonade' breast cancer survivor star walking 1,000 miles topless
Two weeks before Christmas 2013, Paulette Leaphart said a message from God woke her up in the middle of the night. That incident led to her eventual breast cancer diagnosis and on April 30, Leaphart set off on a 1,000-mile walk to raise awareness for and engagement about the disease. For her walk from Biloxi, Miss., to Washington D.C., she's decided to walk topless. She wants spectators and those she meets to see her double mastectomy scars as she shares her story about life as a single mother who went from financially comfortable to struggling to care for her four biological and four adopted children.
"It's a gigantic adventure," Leaphart, of New Orleans, told FoxNews.com.
Recently, Leaphart appeared in Beyonce's much-hyped visual album, Lemonade. In the section titled "Hope," she's bare-chested; she also appears in "Freedom." When she met the superstar, she asked if she'd join her for a block of her walk, but Beyonce proposed a mile instead, Business Insider reported.
Leaphart is aiming to reach the capitol by her 50th birthday on June 27. She'll be accompanied by filmmaker Emily MacKenzie, 30, and her four youngest daughters, who range in age from 8 to 15. MacKenzie and producer Sasha Solodukhina are making a documentary, Scar Story, which they hope to have completed in time for October's Breast Cancer Awareness Month.
When she's completed her journey, Leaphart plans to start a foundation supporting single mothers who face illness and has started a GoFundMe page. She hopes to open homes through the foundation to house women without the financial and emotional support to take care of them and their children through treatment.
"Had I been able to have that one place I could go with my kids for six months and focus on my healing, oh my gosh," she said. "That's my dream, my focus, my goal. That's what God placed on my heart."
'We want to hold stuff in'
Leaphart's journey with breast cancer began on that December 2013 night, when she jumped out of bed after hearing what she believes was God's voice.
"He whispered in my sleep that I had cancer," she said. "I have a very close relationship with God. We're tight."
Leaphart then went to a surgeon who didn't find anything abnormal, but asked when she'd last had a mammogram, given her family's history— her mother, grandmother, and first cousin all had breast cancer. Leaphart had never undergone the procedure.
"He looked at me like I was crazy," she said of the doctor, who wrote her a prescription. "I had the money, but I have eight kids, my world centered around my children. I'd spend [the money] for them to go to the doctor at the drop of a hat, but would never do it for myself. That's just how a single mom thinks."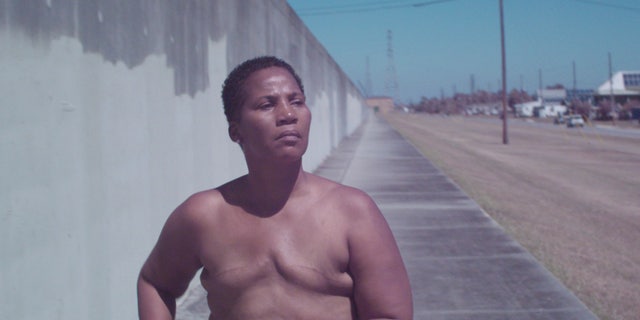 NEWYou can now listen to Fox News articles!
In June 2013, Leaphart was with her first cousin, Monique, when she died from breast cancer. The 32-year-old single mother kept her diagnosis to herself until right before she died and by then the tumor was painfully large and had spread to her bones and brain. Breast cancer wasn't something her family talked about.
"I was so angry at the fact that we, especially as black women, we want to hold stuff in and don't want people to know our business and we feel ashamed, like we did something wrong," Leaphart said. "We've got to stop that."
Though Leaphart's mammogram came out normal, she didn't believe the results and got a prescription for an ultrasound. That's when they found a stage 3 estrogen-positive ductal carcinoma in her right breast. Her doctor recommended removing both breasts, even though the tumor was small, because of her family history.
"I already knew I was going to live— God didn't wake me up to let me die," she said.
When Leaphart went to a reconstructive doctor to look at options, he informed her that she wasn't a good candidate because she had Factor V Leiden, an inherited disorder that can increase the risk of abnormal blood clots, and was already on blood thinners. The drugs put her at risk to bleed behind breast implants, which would require more surgery. She was offered the option of prostheses to wear under her clothes.
Leaphart had a double mastectomy on February 12, 2014. Her surgeon also took out eight lymph nodes, two of which were positive for cancer.
"I accepted the fact that I was going to be breast-less for the rest of my life after God came to me," Leaphart said.
"The spirit of God was all over the beach that day"
Though Leaphart didn't have health insurance, she had a enough income from running her own daycare center, her ex-husband's military retirement and child support for three of her daughters.
"I could take care of us comfortably and had a good amount saved up, thank God I did. I took all of that to pay for my surgery, my appointments with all the specialists, medication," Leaphart said.
The family moved from Florida to Texas, shuttling between family members' homes until Leaphart married an old flame and moved to Seattle. At that point, she recalled, she felt like a burden to her family and moving seemed like a solution. She sporadically received chemotherapy when she could afford it. When the marriage failed, Leaphart picked up her daughters at their father's home in Virginia and moved to Atlanta. Before the school year started, they took a trip to Biloxi for a beach weekend.
Though Leaphart had accepted that she would be breast-less, she said the Holy Spirit came to her while she was at the beach and told her take off her shirt and take pictures. She was puzzled, but promised herself she wouldn't disobey after what she went through with her recent marriage. She gave her daughter Destiny, now 13, her phone, kept her head up, and posed.
"It was such a powerful moment," she said. "I saw people around with tears in their eyes."
When she finished, a few women came up and told her it was the "most beautiful thing" they'd ever seen, when they realized she didn't have any breasts.
"That let me know the spirit of God was all over the beach that day," she said. "I knew in that moment my chest was touching people."
Her daughters put the photo on Facebook in September 2014 and within minutes, she had thousands of likes. Viewers posted their thanks and emailed their stories. To date, the post has gained over 1.3K views and 196 comments.
That's when Leaphart knew what God wanted her to do, she said— to walk 1,000 miles baring her scars. The walk from her hometown of Buloxi to D.C. is almost exactly that distance.
"These are my war scars"
A scan three months ago revealed that Leaphart is clear of cancer. Her port was taken out in March and all of her specialists gave their approval for the walk. She moved to New Orleans in January 2015 and has been training for the walk for one year -- even when she was weak and sick -- and is down to only two medications. She walks 20 miles per day and works out three hours every other day.
"I'm physically fit, healthy; they took me off all my heart and blood pressure medications," Leaphart said. "God just healed me."
Leaphart is aiming to walk 30 miles per day, which would get her to D.C. in three months. She'll be traveling with her youngest daughters— Thaltiel, 15, Alexis, 14, Destiny, 13, and Madeline, 8— when they're out of school and the film crew and they'll stay in two RVs.
Once she arrives in D.C., Leaphart plans to climb the steps of the United States Capitol and advocate for government support of middle-class individuals facing life-threatening diseases.
As a new breast cancer advocate, pink ribbon campaigns and "save the ta-tas" messaging don't connect with her, Leaphart said.
"I think my scars are pretty but ain't nothing pretty about breast cancer," she said. "I'm walking to have people refocus on the reality of what cancer is and what it does."
In addition to reminding women that they need to take care of themselves, Leaphart hopes her campaign shows women that they can still be beautiful without breasts; that forgoing treatment to save their breasts isn't always the best solution.
"I'm breast-less, but baby I'm still sexy, I still turn heads," she said. "I have these scars across my chest, but that tells everybody that I'm one tough cookie. If I can kick cancer in the a--, can't nothing else mess with me. These are my war scars. It's my story."