Bears' Zach Miller shares video of first steps following gruesome leg injury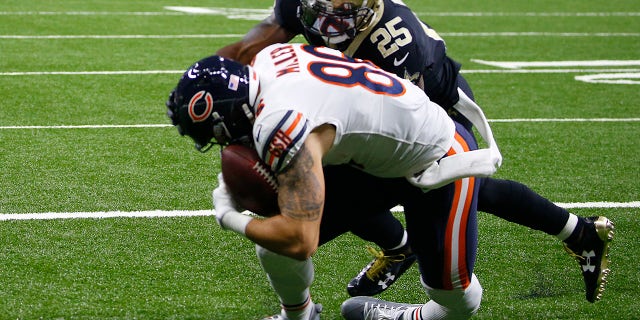 Chicago Bears tight end Zach Miller posted a 17-second video to Instagram on Sunday that showed him slowly taking steps without the assistance of crutches, just weeks after he underwent emergency surgery to repair a torn artery that could have cost him his leg.
Miller, who dislocated his left knee and tore the popliteal artery during the Bears' Oct. 29 game against the New Orleans Saints, is wearing a brace on his leg in the video, and said walking feels "like a million bucks."
The 33-year-old recently told reporters that he's had eight surgeries on his leg, and doesn't know if he'll require more. During his first trip back to the Bears' training facility last Monday, Miller said that he had started bending his injured knee, and has been playing video games, the piano and guitar to stay busy.
Miller has been placed on injured reserve by the Bears, and said last week that his future with the NFL remains uncertain.
COMPANY RECALLS SALAMI, PROSCIUTTO OVER POSSIBLE SALMONELLA CONTAMINATION
"I haven't really told anybody yes or no, whether that's a definitive thing for me," Miller told The Dan Patrick Show, of his possible return next season. "I haven't been told 'no.' I've actually been told 'yes' by a number of doctors. For me, it's, 'We'll cross that road when it comes time.'"
At the time of his injury, Miller was attempting to haul in a 25-yard touchdown pass from rookie quarterback Mitchell Trubisky, but his left leg bent awkwardly as he landed. The play was originally called a touchdown, but as Miller was carted off the field officials overturned the call and said that the ground caused the ball to loosen his grasp as his upper body crashed to the turf.
As of Monday, Miller's video has racked up more than 90,000 views and received hundreds of comments from well-wishers.